Sometimes, I do something I'm proud of myself for doing.
This was not one of those times.
I was at the hair place today for a much needed session with The Hair Whisperer. After she thoroughly coated my hair with some sort of magical goo, The Hair Whisperer had me sit under one of those giant, chair-mounted hair dryers.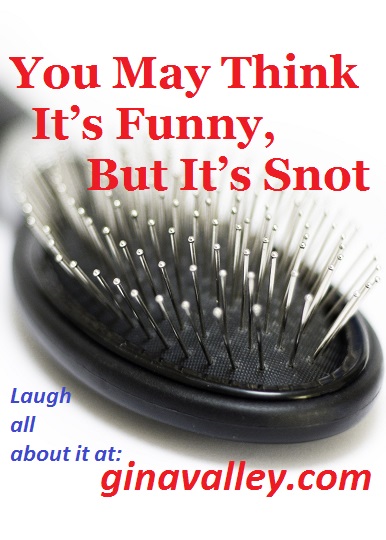 Everyone knows the dryers at a hair salon are akin to Sanctuary, and no one under a dryer is to be disturbed. Besides, you can't hear what anyone says to you when you're under one of those giant heat spewers anyway.
I planted myself under Dryer #1. I was alone in the dryer area for the first few minutes, then a woman I'd never met planted herself under Dryer #4. Consistent with the Rules of Sanctuary, Woman Under Dryer #4 and I did not interact.
Now, I don't know if God was testing me, or he just wanted to share a laugh, but at the very moment I happened to turn my head toward Woman Under Dryer #4, she sneezed.
It wasn't a dainty little sneeze like many women do. Nor, was it a more feminine version of the male free-for-all explosion. No, this was more along the lines of what a blue whale does when it suddenly needs to clear its blow hole after 2 hours beneath the waves.
The force of her sudden nasal explosion created, as all the physicists might have expected, an equal and opposite reaction, causing her head to make a rapid acceleration toward the back of the dryer.
It didn't even take a second for her velocity backward to be suddenly, and noisily, stopped by the back of the dryer hood, as signaled by a loud "thunk!" and a tremoring of the drier and chair.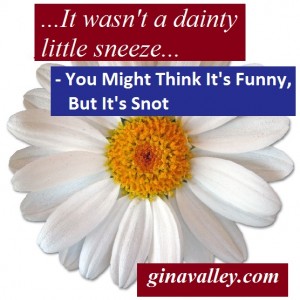 Before I could open my mouth to ask if she was OK, the force of her head hitting the back of the dryer resulted in what I can only assume was some sort of rebound effect, causing her head to jolt forward, where it, predictably, collided with the front of the drier hood, as signaled by another loud "thunk!" and an increase in the tremoring of Dryer Number 4 and its chair.
I'm not proud to admit that every fiber of my being screamed out for me to laugh.
And, it was not just tempting to laugh. It was almost impossible not to. After all, a sneeze-induced, double head whacking is way past funny. It's hilarious!
I tried not to laugh. Really, I did. I bit my lip. I thought about that horrible commercial about the abused animals. I remembered that time my grandpa wore his Speedo to the beach. But, nothing, no matter how sad or horrifying, could remove my need to giggle.
The more I tried not to laugh, the more I felt my body shake. Soon, tears were escaping my eyes. The fact that I shouldn't laugh was making it nearly physically impossible not to do so.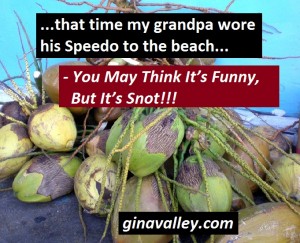 The shell-shocked Woman Under Dryer #4 wrangled out from under Dryer #4 without touching the hood. I couldn't help but think she had developed a fear of it, after having suffered through 2 rapid-fire collisions with the plastic crown. I wondered what the word was for a fear of hair dryers. This caused my need to giggle to increase even more.
At that point I realized The Hair Whisperer had returned to check my warming tresses. She was standing next to me, her mouth gaping, a clear indication she had witnessed the sneeze-off, as well.
I knew if I made eye contact with The Hair Whisperer I would dissolve into a laughing heap, so I focused on the floor and continued to bite my lip in an effort to maintain control until Woman No Longer Under Dryer #4 was well out of earshot.
As Woman No Longer Under Dryer #4 crossed in front of me on a trajectory toward the restroom, I lost my mind. I don't know what I was thinking. I'm sure, looking back, if I had simply followed the rules of Sanctuary, everything would have been fine. But, I couldn't do it. I don't know why. I just couldn't help myself.
Barely able to contain my laughter, I heard myself, in what must have been a completely involuntary action, say to Woman No longer Under Dryer #4, "Bless you."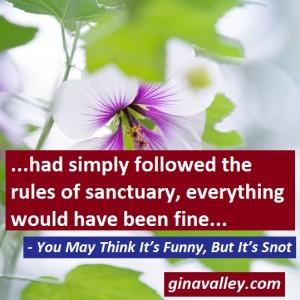 She stiffened, and glared at me.
I might have been more taken aback by her giving me the evil eye had I not been so distracted her smock.
The salon staff outfits each client in a black smock upon arrival. The smocks make you feel like you're at the height of fashion, and they're great at hiding any wayward blobs of goo during the miraculous transformations the various aestheticians wrought.
When Woman No Longer Under Dryer Number 4 turned to give me the look I suddenly became aware of another effect of her nostril work out. Not only had the explosion released a tremendous amount of energy, resulting in her double-head-whacking, it had also apparently released an artful display of her nasal…er uh…productions.
It looked as though someone had airbrushed a delicate, glistening map of the cosmos on the front of Woman No Longer Under Dryer #4's smock, and had dropped a couple big planets into the mix. The bright lights shining from the ceiling made the strands and blobs glisten against the black background.
I almost expected to hear Carl Sagan telling me which heavenly body each splotch on her smock represented.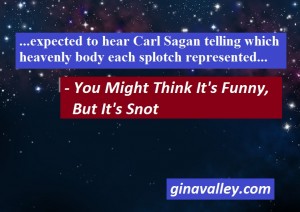 But, I did not expect to hear The Hair Whisperer whisper in my ear, "I think we might need to throw out that smock."
But, she did, and I'm not proud to admit I lost the battle to keep from giggling. I lost it big time. I didn't just giggle. I laughed. I snorted. I guffawed. I laughed again. I hee'd. I haw'd. I totally dissolved into a shaking, crying pile of hilarity.
I never saw Woman No Longer Under Dryer #4 come out of the restroom. That might be because I was nearly blind from crying due to laughing so hard. Or, she might still be in there. It's a shame, though, because I wanted to apologize to her.
So, Woman Under Dryer #4, if you're reading this, I apologize for laughing during what was likely a mortifying and traumatic experience for you.
I admit I thought it was funny at the time.
But, I see now that it's snot.
Laugh Out Loud!
-gina
Have you ever done something totally embarrassing in a public place? Have you witnessed someone else embarrassing themselves? How'd you handle it? Shoot me a comment. I'm looking forward to hearing all about it.
Be sure to get first notice about my humor writings by subscribing to my email notices by clicking that lovely box at the top, right of this page. You'll receive convenient updates when I post on this website. I promise not to do anything weird or annoying with your email address.
And, as always, thank you for sharing my humor with your friends and family on your social media platforms. I already paid for those share buttons at the bottom of the page, so I'm happy when you use them.
And, as always, I appreciate all of your support.
Photos courtesy of 
Stock.xchng
 – Used with permission This post originally appeared here on ginavalley.com in March 2014 titled 
You Might Think It's Funny, But It's Snot.