Struck By The Soccer Fairy!!! …Gina's Favorites
by Gina Valley
I'm taking this week off to deal with some family issues, so I've lined up some of my favorite posts to keep you giggling. Laugh along with this 
Gina's Favorites
 post.
Struck By The Soccer Fairy…Again!!!
This morning was soccer try-outs.  As always the Soccer Fairy paid us her (ok, could be a "him" – not sure, never seen the accursed Soccer Fairy) traditional "Night Before Soccer Try-Outs" visit.  She (or he) hid half of the kids' shin guards and a couple of cleats.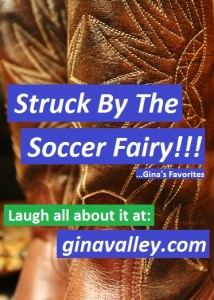 Somehow try-outs and the accompanying need for gear take my family by surprise every time, despite having been on the calendar for months.
This, as it always does, caused the house to be filled with the relaxing tones of "patient" prodding as their dad, The Professor, attempted to "encourage" the kids to find their stuff.
I don't know what he is so upset about.  After all, during the process he found his left cowboy boot, three cordless phones (only two of which belong to us), his jigsaw, and what was either formerly a banana or a crayfish.
Years ago, in the interest of family harmony, I bought a big tub with a lid and labeled it "Soccer Cleats & Shin Guards."  My family loved it.  They oooh'd and aaah'd over it.  They marveled as I demonstrated the procedure whereby one might remove the lid, place one's soccer gear inside of the tub, and return the lid to its original location.  They were all impressed.
They were shocked when I then lifted the lid and revealed that their valuable possessions were, in fact, still there, inside the tub, where they had put them.  As anti-neatites, the idea of putting something where it belongs was foreign and a bit unsettling to my pack.  But, they seemed intrigued and interested in the notion of being able to use the magical tub to keep track of and to locate their belongings.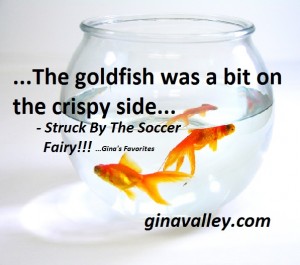 All pledged to make use of this valuable new tool, and to fully embrace this minion of organization.
I rejoiced.
They never used it.  It is still in brand-new, pristine condition.
This morning while on the traditional hunt for their soccer gear, besides completely destroying the house, my pack located four missing library books from the last city we lived in, two notes from teachers requesting conferences last spring, and one goldfish.
The goldfish was a bit on the crispy side.
The missing cleats and shin guards continue to elude them.
I told them not to worry.  The missing soccer gear will turn up.  It always does.
On the first day of baseball season.
Laugh Out Loud!
-gina
What's disappearing in your neck of the woods?  Shoot me a comment with the details.  I'm looking forward to hearing all about it!
Photos courtesy of 
Stock.xchng
 – Used with permission