If He Answers to "Easter Basket" He Must Be Our Dog!!! …Gina's Favorites
by Gina Valley
Laugh along with this timely Gina's Favorites post for Throwback Day.
If It Answers to "Easter Basket" It Must Be Our Dog
We have several dogs.  We love them all very, very much.
One of them is named Douglas.
Douglas is an idiot.  I mean that in the nicest possible way.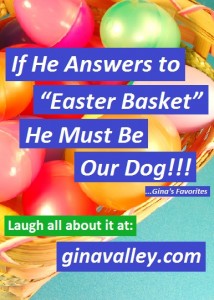 Often when I am looking at Douglas I say to him, "It's a good thing you're pretty."
He is pretty.
He's a lab and saluki mix with shiny black fur that is soft like a rabbit's. His mouth always looks like it's smiling. He has a long tail with a dangling, silky fringe that that never gets tangled. He's lean and looks like he could run down a cheetah. He really is a pretty dog.
He's also pretty dumb.
Douglas joined our family when he was 9 months old. His first family had named him "Douglas," after the black train on the Thomas the Train TV show. We opted not to change his name because we didn't want to confuse him. If we knew then what we know now, we would have just laughed and laughed and laughed at the idea of not confusing him.
Douglas, who is sweet and wonderful with children despite his enormous size, lives in a constant state of confusion. I swear sometimes the other dogs are laughing at him. I sometimes scold them for that. Apparently he isn't the only confused member of our family.
It took nearly 2 years to teach him to "sit" on command. It took nearly 4 years to get any kind of acknowledgment from him that when we holler "No!" we are not happy with what he is doing and he should stop. Even still, sometimes all he does is pause.
He doesn't wag his tail like normal dogs. He has an asymmetrical pattern when he puts his tail into motion. When he's especially excited about something he does what we call "helicoptering," which is when his tail just makes continuous, enormous circles.
But, it's his seeming inability to understand what his name is that is the source of most of our head shaking and giggles.
For the first two years he lived with us we would call out, "Douglas!" to get his attention, and then, having received no acknowledgement whatsoever again, we would call out, "Trixie!" to get Douglas to come to us. You might remember that Trixie is one of our other dogs who is, sadly, quite ill now. He'd see Trixie run up to us and he would follow her. The funny thing is he would run up to us if we called out, "Trixie!" even when Trixie wasn't home.
But, that was ok.  At least we knew how to get his attention.
And, he is very pretty.
Even though it usually receives no acknowledgement from him we consistently call Douglas "Douglas." We are ever hopeful that he will catch on.  But, at 10 years old he still hasn't.
For almost 6 weeks this past spring he answered solely to the name "Easter Basket." Daughter#1 was in a conversation, and when she said, "Easter basket," Douglas charged across the house, giant paws slipping and sliding, long legs flailing, right up to her. We thought it was a coincidence.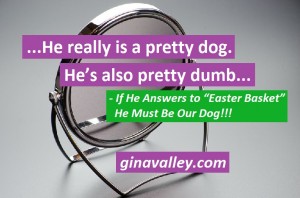 It's not unusual for Douglas to make a sudden mad dash through the house for no apparent reason. We don't even answer the door if he runs up and barks at it unless the other dogs do, too. He has excellent hearing. He even hears, and I think sees, invisible people.
So, scientifically minded people that we are, we tested "The Easter Basket Moniker" theory again later that day. We had Son#3 sit on the sofa in the family room with no food nearby, as we wondered if Daughter#1 being in the food-centric breakfast room earlier had been the reason he had made his mad, well-timed dash. Son#3 called out, "Easter Basket!" Douglas came running.
I'm not sure if Douglas thought "Easter  Basket" was his name or if he had associated "Easter Basket" with candy and was hoping to get some (my dad also comes running at the phrase "Easter Basket." He loves him some candy!), but for whatever the reason, for the first time in his near decade as a part of our family, we had a reliable way to call that dog to us. Gotta admit it felt a little weird hollering it out at the dog park, though.
Since the end of his "Easter Basket" phase we have been back to calling him "Douglas," while he is back to having no idea that we are talking to him.
Until yesterday.
Yesterday 'Ole Easter Basket amazed me.
I called out, "Douglas!" and he tore through the house and ran right up next to me, looking at me expectedly. I was so shocked that it took me a minute to remember I was calling him to see if he needed to go outside. He went out.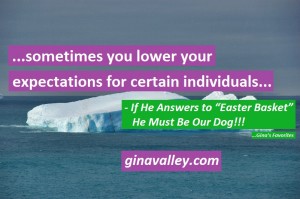 Twice more over the next couple hours I called out "Douglas!" and he ran right up to me. I was so excited that at nearly 10 years old he had finally learned his name. Sometimes you lower your expectations for certain individuals. I could hardly wait until my pack got home so I could show them.
So, they got home around dinner time, and I called out "Douglas!" to give him a chance to show off his new found brilliance. No reaction. I tried several more times. I even tried with a Scottish accent. No dice. He didn't even look at me until I walked over to him and petted his head.
Whatever iceberg had popped through the surface of that vast empty ocean that is his brain had sunk back down into the depths.
But, that's ok.
And, luckily, he is pretty.
Laugh Out Loud!
-gina
Ever have one of those "what's my name again?" days? Shoot me a comment. I'd love to hear all about it!
Photos courtesy of 
Stock.xchng
 – Used with permission.