DadSpeaks …Gina's Favorites
by Gina Valley
It's hard for me to believe it's already been a month since my dad was killed in an accident. I will never get over losing him, but my family and I are slowly beginning to heal.
Happy, funny memories like the ones that inspired this Gina's Favorites post about him help a lot with that process.
Smile along with me.
DadSpeak
I don't know if you're aware of this, but the detail oriented scientist in me has observed that dads and moms have some differences.
Perhaps you've noticed.
For example, around our house, mom (me!) includes something green with every meal she prepares, even if it's just chocolate kisses in green foil wrappers.
Dad (The Professor), on the other hand, includes cheese with every meal he prepares. He never includes green, even on St. Patrick's Day. He's a meatetarian, so he doesn't want to chance ingesting a plant part.
Mom insists The Pack is dressed appropriately, in outfits that are at least close to matching, and are unmistakably clean. Dad is happy with Pack attire as long as there aren't any parts hanging out that shouldn't be.
In our house mom tends to be very direct and to the point, i.e. "No, you may not wear that.  You look like a hooker." Dad tends to be a bit more tangential, i.e. "Did your mom see that outfit? Are you going to a costume party? I thought you had school today."
I guess everyone's parents have their own way of communicating. I know mine do. My mom bakes a different cake for us every single day while we visit. She's taught my kids to sew and to garden. She tells me how beautiful I am, even when I look like something the cat dragged in, thought better of it, and dragged back out again.
My dad takes a different approach to communicating.
My dad is the sweetest man alive.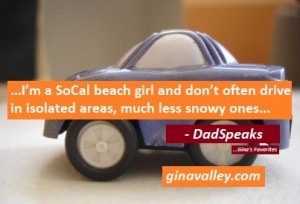 While I visited my parents last winter I needed to drive from their tiny mountain village to the closest big city to pick up The Professor from the airport.
My dad wanted to serve as my chauffeur, as he usually does while I visit, but that would have left my mom, who suffers from Parkinson's Disease, home alone with 9 grandchildren and no one to help her.
Nevertheless, he was quite concerned about me making the long, snowy drive, as he knows I'm a SoCal beach girl and don't often drive in isolated areas, much less snowy ones.
He told me to wear my tennis shoes for the afternoon drive to the airport.  "You'll be more comfortable," he said.
He packed my boots and coat in his car for me. "You never know if the car is going to break down and you'll need them if it does," he said.
He sent a water bottle with me. "It's cold so it's easy to forget to stay hydrated and you'll be gone for 3 or 4 hours," he said.
He told me to park on the second level of the parking structure at the airport, in the back, on the street side. "That way you will have the shortest walk to the terminal," he said.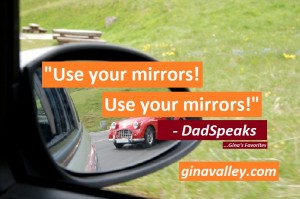 He demonstrated to me how to work the heater in his car. "You don't want to over-heat," he said.
He showed me where the light control switch was located. "It'll be starting to get dark before you get there," he said.
He reminded me to use the car mirrors as I backed his car out of his garage. "Use your mirrors. Use your mirrors!" he said.
He was looking out the window when I returned to his house.
He worried about me the whole time I was gone. "The roads get slick here. Black ice can sneak up on you," he said.
He carried in my coat and my boots from his car. "You'll want these for your walk in the morning. They'll be warmer when you put them on if we bring them into the house," he said.
What he really said, each and every time, was that he loves me.
My dad is "Papa" to 18 grandchildren and 2 great grandchildren,
but he will always be my dad.
Love you, dad!
-gina
How does/did your dad tell you that he loves you? How do you tell other people you care about them? Are the male cooks in your life cheese-dependent? Shoot me a comment. I'm looking forward to hearing all about it.