Don't Leave Home Without These!!!
by Gina Valley
Clothes, medicine, shoes, beach chairs – yeah, that's the easy stuff.
We get most of that when we're packing for a trip, although we do tend to forget at least one obvious item, like a wallet, the carsick pills, or a cell phone charger.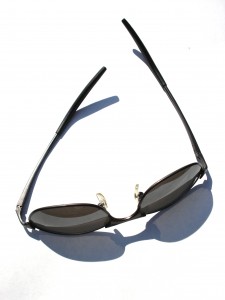 When I was a kid, my dad always forgot his sunglasses. We'd get out on the road in the pre-dawn dark, and as the sun rose hours later, my dad would realize he had nothing to shield his eyes. As we kids got older, we developed the habit of harassing my dad about this while we were still in the driveway.
"Have you got your sun glasses, Dad? Are you sure? We don't want you to have to pick up another turquoise encrusted pair at the border."
Funny thing was, we'd think he was getting mad when we teased him about forgetting his sunglasses, but almost every time he'd hop out of the car and dash back into the house, because he had again forgotten them. Par for the course, I guess.
Years of family travel have taught me that the most vital things to bring on a family trip aren't usually on any packing list. I won't take a trip without this stuff. You might want to add it to your list.
Chocolate covered almonds – this is not junk food.  These are child life preservation pills. Me popping a handful of these babies into my mouth has undoubtedly saved the lives of many of my family members after a long day of traveling together. Plus, since the almonds have protein, I can legitimately tell my kids they can't have any because I need to save them for my dinner. Don't worry. They'll find some Skittles down the seat to get their sugar high.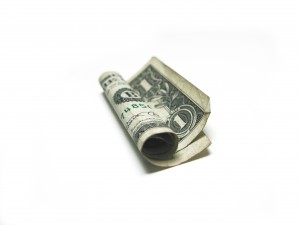 Singles – during college and pre-married life these green backs were sometimes used to bribe a particularly tasty performer to move a little closer. Now, as a parent, I use them to bribe particularly dramatic performers into closing their show early.
When you have the cash to flash to back up the "If you will stop tooting while we're in this store, I will give you a dollar," or the "If the 2 of you can go 5 minutes without arguing, I'll give you each a dollar," it is a much more effective proposition. Just make sure your kids don't go shoving the bucks down their shirts or pants. People will talk in these tourist traps, and you don't want to be the next urban legend they come up with. "Hey, Vern? Remember that family of strippers back in the summer of '13?"
A sleeping mask (or a baseball cap) – to pull over your eyes so you can pretend you're asleep and don't know your child when she slaps you on the arm while you are sunbathing by the hotel pool, and wants to know "How come that lady's hoohahs stick up like that?" Granted, everyone else at the pool was also checking out Ms. SuperTan's gravity defying, she-balloons as she floats around in the pool, but that doesn't mean it's a good time to talk about it.
Binoculars – useful for scanning the pool from a distance (preferably your hotel room) when your 2 ½ year old says that he pooped in his pants, and you realize that he's standing there pants-less, and his filled and decorated drawers are floating free-range somewhere in the pool.  Discretion being the better part of valor, and all.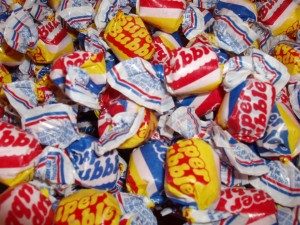 Big, hard pieces of bubble gum – be sure to bring these to pop into children's mouths when it's absolutely vital that they stop talking.
These are helpful at border crossings when the nice man asks if you have any fruit, and your child remembers the Costco bag of apples you bought an hour earlier, or that you mentioned 600 miles back that you forgot to bring Fluffy's rabies certificate.
They're also helpful when you notice your 3 year old has noticed the nice man in the next campsite over is wearing a lovely dress and has long red finger nails, but said 3 year old has failed to notice that travel trailers are not soundproof.
Happy Trails!
Laugh Out Loud!
-gina
Are you traveling this summer?  What is that one item you always have to have when you travel?  Shoot me a comment.  I'm looking forward to hearing all about it.