Don't It Make My Green Eyes Blue
by Gina Valley
I have blue eyes today instead of my usual green.
My sudden optical change happened because a few years ago, while most of my kids were still babies, I had to be out of town for Valentine's Day.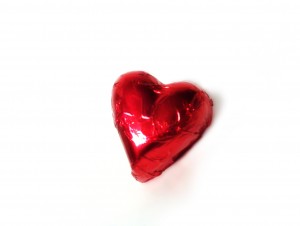 Valentine's Day?  Who cares, right?
Most of them were too young to know they were missing anything anyway.
But, my "mommy hormones" kicked in.
It wasn't as bad as that time we had to leave our puppy home while we went away for the weekend.  I'd cried because he'd had a really rough week, and I was worried about him being sad while we were gone and he was home all by himself…with just our live in house sitter (I think The Professor put the "home" on speed dial after that one).   But, it was a pretty hormone-y time, nonetheless.
So, I decided I'd leave each of my pack a note and handmade Valentine, so they would know that I felt terrible about being gone, and had not abandoned them.
I was feeling a lot better as I drove home considering my plan.  I decided to stop off to buy some Valentine making supplies (and because the Valentines we bought for our kids to give out at school apparently had only 20 in a box and every school age kid had at least 22 students in his or her class, so we needed another box).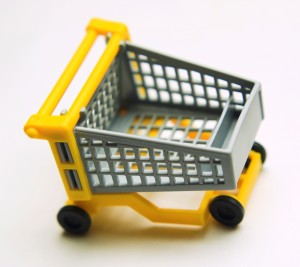 I popped into the discount store (not the one that gives me a migraine, but the one with the snappy music in its ad.  It costs more, but it's on the way home.  And, no migraine).   I headed toward the craft aisle, and on the way I came to the Valentine aisle.
There were Valentine's table cloths and plates of all sizes.  Valentine goblets, candy, center pieces.  Valentine balloons, streamers, toy favors and games.  They even had Valentine pastries!
I'd found all things Valentine waiting there for me to create the ultimate Valentine morning, in a desperate attempt to fill the void that my children would undoubtedly feel as they rose on the special day to realize, yes, mommy was in fact on another one of her business trips.
Surely, this was a way to prevent the horrible emotional damage that my absence on Valentine's Day would otherwise certainly cause.
I felt something move within me.  It might have been my inner Martha Stewart or perhaps I was channeling Dr. Spock or maybe it was the Thai food I'd for lunch.  It might have been my AmEx card shaking with fear.  But, something definitely stirred.
Before I realized what I was doing, I'd filled my cart with all manner of Valentine's paraphernalia and bolted to the register.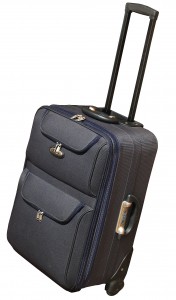 When I got home I realized I had 8 bags of Valentine Day enhancements with me.  Yet, somehow in my mommy-guilt-ridden state even that wasn't enough.  I rushed through the door, and told The Professor I needed stuff from the attic right away.
"The suitcases?"  he asked.
"Yeah, those, too," I answered, rushing about spreading Valentine's cheer.  " Plus, anything we have for Valentine's Day.  Plus any red Christmas stuff that doesn't look Christmas-y."
"If it doesn't look Christmas-y, why would it be Christmas stuff?"  he asked, clearly not channeling Martha Stewert.
I had to leave for the airport by 3AM.  It took me until 2:59 to finish decorating.  I'd put decorations in every room, even the bathrooms.
But, the crowning glory was the breakfast table.
There were Valentine's place settings, goblets, and a center piece.   Fancy, but unbreakable (for most kids, not mine, but close enough).  There were streamers, window clings, and balloons.   Tiny toys and favors were strewn about the table, and…here's where my kids would enter into the mommy is a goddess mode….sweets of all kinds.
Keep in mind that I don't usually let my kids eat their fill of sweets.  In fact, I rarely buy them.  But, this time the table was covered. There was pink sugary breakfast cereal, pink and red cookies, all manner of Valentine's pastries,  and 6 different kinds of candy all decked out in Valentine splendor and strewn about the table.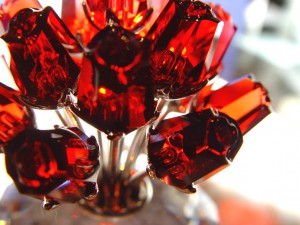 It was beautiful.  It was stunning. It was a sugar-rush, kid-Nirvana waiting for my littles to discover when they woke up.
I received an excited phone call later that morning after my pack had woken up.  They were all so excited.  I wished I was home to see their fun, but I was glad that I'd taken the time to do it, knowing I'd be gone.
What started out as a way to appease my mommy-guilt, turned into a family tradition, as my children immediately began discussing how excited they were to see the next holiday table.
Now every holiday  (well the minor ones, anyway, we still go traditional décor for the majors), as well as birthdays, our home, the breakfast area in particular, is transformed into a celebration zone with food, décor, and favors that both match the occasion, and tend not to be at the crux of our nutrition plan.
So, naturally, this St. Patrick's Day was no exception.
As per usual, I was up most of the night putting the final touches on the party zone, and was a bit tired in the morning when it was time for me to make the last minute dishes.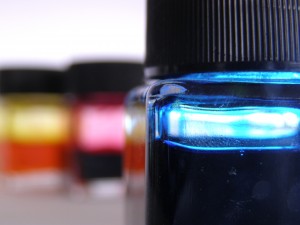 My fatigue made me a bit clumsy.
I splashed buttermilk in my hair as I made the Irish soda bread.
I accidental unscrewed the lid to the pepper as I seasoned the corned beef and dumped half of the can onto it.
And, last, but certainly not least, I somehow managed to squirt blue food coloring into my eye while I was making the green eggs and ham.
I hoped I hadn't just given birth to a new family tradition.
I kind of prefer my green eyes green.
Laugh Out Loud!
-gina
Do you celebrate the "little" holidays?  What do you do?  Which is your favorite holiday? What's your favorite tradition?  Shoot me a comment.  I'm looking forward to hearing all about it.