Football Party Do's & Don't's…Gina's Favorites
by Gina Valley
Maybe you've caught wind of a little 'ole football game they're playing this Sunday.  It's kind of a big deal around our house.  I figured this would be a great time to get ready to tackle some Super Bowl watching etiquette laughs with this
Gina's Favorites
post. Laugh on!
Football Party Do's & Don't's
Just 'cause it's a party, doesn't mean there aren't rules.  Without rules, we just have anarchy.  And, let's face it, as far as parties go, anarchy stinks.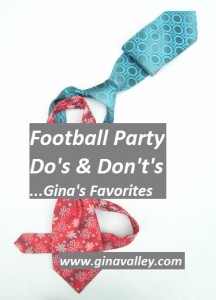 So, as you're celebrating this weekend, keep these guidelines in mind.
Do cheer when your team scores.
Don't chest bump your 89 year old great, grandma.
Do enjoy your favorite beverage or libation over the course of the game.
Don't play The Drinking Game with ugly ties and men wearing bad rugs on the broadcast as the triggers.
Do enjoy some dessert.
Don't cram 150 M&M's in your mouth and try to say "Pass the ball!"
Do hang up decorations in your favorite teams colors.
Don't go door to door calling your neighbors "Loser!"
Do serve a variety of cold cuts, chips, and your homemade chili.
Don't serve "pluck them yourself" hot wings.
Do provide a variety of beverage options for your guests.
Don't serve your cousin Eddy's 100 proof Bathtub Brew.
Do admire the players' athletic prowess.
Don't say, "Now that's what I call a tight end!" every time they snap the ball.
Do try out your new fondue kit.
Don't let your neighbor drink the cheese directly from the pot.
Do let your guests enjoy the game uninterrupted.
Don't turn to the Food Network during the commercials to check out the Chopped marathon.
Do provide a range of arts and crafts to keep children at your party occupied.
Don't let the children play with your wood burning kit or the cat, and especially not both at the same time.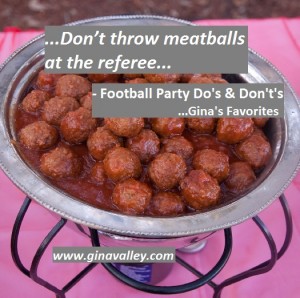 Do groan and protest bad calls during the game.
Don't throw meatballs at the TV screen when it shows the referee.
Do set up snack stations throughout your home to encourage guests to move around.
Don't let the dog stand on the dining room table snarfing up your special recipe punch.
Do discuss the finer points of the game.
Don't demonstrate proper hiking technique using your 1 year old.
Do embrace the party atmosphere you see at the game as you watch the broadcast.
Don't strip down and "streak" through your living room.
See you at the coin toss!
Laugh Out Loud!
-gina
What are your party do's and don't's?  Shoot me a comment.  I'm looking forward to hearing all about it.