Does This Holter Monitor Make My Arms Look Fat?
by Gina Valley
The thing about being half the age of every other patient at the cardiology department is it makes you feel young.  Very young.  And that, believe it or not, is both incredibly funny and incredibly depressing.
The receptionist double checked my name twice, and asked me several times if I was the patient.  After a while I was starting to wonder myself.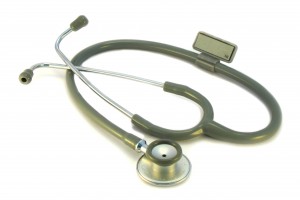 I was there to get fitted with a heart monitor.  The first time I heard the name of these wear-it-24/7 monitors, I thought the receptionist said that it was a "halter" monitor.  Now, personally, I don't care for the way I look in a halter top, so I was not at all excited about the idea of wearing some sort of medically required, electronic, halter top around the clock.
As it turns out, it's not "halter," it's "Holter," as in some guy's name.  I think he must have been the one who invented the snot-like sanding gel they scrub you with before using tape, glue, and possibly pipe cleaners to securely, very securely, hook your Holter monitor onto you.
(There's also a tiny chance that it's named after Norman Holter, the guy who invented this amazing device AND donated the rights and profits to medical science.  Way to go, Norm!)
When I arrived at the office, the receptionist handed me a paper with the word "HOLTER" stamped on it, and said to me, "If they ever call you, give them this paper."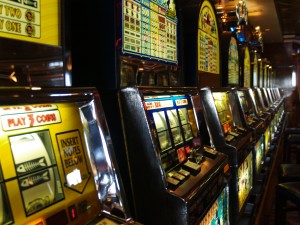 If?  Was there some doubt about that?  If they ever call me?  Was it more of a KENO game than a guaranteed medical equipment fitting?  Does what happens in Cardiology stay in Cardiology?  As I looked around the large waiting room, I was pretty sure I'd seen some of these guys at The Tropicana.
I heard buzzing, and wondered if it was someone else's fancy electronic heart monitor.   Turns out it was my fancy electronic life monitor.  My cell phone.
I'd received a text from Daughter#3 asking if, although she knew I told Son#4 that "he can't watch TV while you're gone because his mouth was not polite yesterday, would it be ok if I watch TV and he's in the room, if he says he won't watch it, 'cause Daddy said that I have to ask you?"
I texted her back that I couldn't possibly be concerning myself with TV watching issues when I was in the middle of a KENO game.  She did not text back.
As I sat there listening carefully for the possible utterance of my name, it occurred to me, that in my haste to shower this morning, I'd forgotten to shave my legs.  I'd done a speed shave during yesterday's morning shower, so they looked ok, but, feeling them, it was clear that my Greek heritage was already coming through.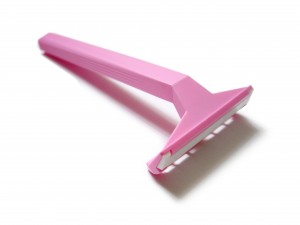 I assumed they were going to put the heart monitor on my chest, but I worried I'd be judged (and that it would be noted in my permanent file), if they noticed that I'd showed up with less than smooth, nowhere close to date-worthy legs.  I was hoping for leniency because I'd gotten my hair and nails done.  You know how important that stuff is to cardiologists.
My name was in fact eventually called, and I gave the tiny woman named "Beth," who'd hollered it, the slip of paper with the word "HOLTER" stamped on it.
Beth double checked that I was indeed the patient three times before finally leading me through a maze of halls that lead to the "Holter Application Room," where, predictably, my Holter monitor was applied (and to think that people say that modern health care is confusing).
I noticed that one odd side effect of all this health weirdness and medical care I've been having of late is that I've developed a nonchalant-ness about taking my clothes off.   When Beth told me I'd need to remove my blouse, I pulled it off and tossed it on a chair without even making sure the door to the hall was closed.
Maybe I've found a second career.
Of course as a mom of 7, I can assure you it'd still be a comedy job.
And, I'd probably have to wait until I've returned this Holter monitor to start.  All that tape and glue on my chest is just not attractive.
Still, always nice to have options.
Laugh Out Loud!
-gina
Have you ever worn a Holter monitor?  How about a Halter top?  Are your arms in good shape?  Shoot me a comment.  I'm looking forward to hearing all about it.