Do You Know What Time It Is?
Do you know what time it is?
I'll give you a hint.
I'll give you a couple hints.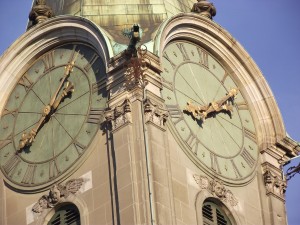 Homework, which was totally completed, such that the homeworkee could play video games earlier, is suddenly not finished.  Another assignment has mysteriously popped into the forefront of the homeworkee's mind, and it requires intense, immediate study, possibly even a trip to the library.
Tears are flowing over each long forgotten paper-cut, scrape, and bruise earned in school or on the playground today.
Urgent gastrointestinal issues with enormous potential catastrophic results have suddenly developed, requiring the urgentee to quickly retire to the loo for the foreseeable future.  And, perhaps a bit beyond that.
Sudden exhaustion has set in, and sleep is nearly impossible to put off.  Children are veritably near unconsciousness, even as they stand, because they are so overcome by this tsunami of tiredness.
The dog must be walked right now.  He's clearly unhappy, and he hasn't had a walk.  It wouldn't be right to deny exercise to a poor, helpless animal.
Shoe boxes must be dug out of closets instantly to begin emergency dioramas that dioramaees have suddenly remembered must be completed yesterday.
The weather inside has become instantly and extremely bipolar, causing the jacketed to be hot and the non-jacketed to be cold and both to run for their closets to make urgent deposits and/or withdrawals.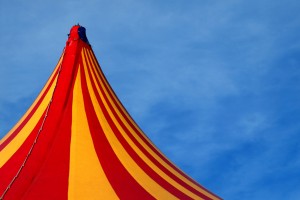 It a matter of moments, my house, which was moments ago a 7 ring circus, has suddenly turned into a near ghost town.  The water dripping in the kitchen can be clearly heard, as there isn't another sound in my home.
Each of my children has scattered and disappeared, leaving behind only twirling dust bunnies in their wake.
What time is it you ask?
What is this magical hour?
When are my children suddenly more magic filled than pixie dust and more wiley than a wabbit?
It can only mean one thing.
It's chore time.
Laugh Out Loud!
-gina
What clears the room the quickest in your home?  Did you disappear during chore time when you were a kid?  How do the kids in your life orchestrate their avoidance exit?  Shoot me a comment.  I'm looking forward to hearing all about it.