Do Turtles Wear Deodorant?
by Gina Valley
Each night before I go to bed, I toss the load of laundry I put into the washer after dinner into the dryer.  It's really one of those on auto-pilot "do it without thinking" kind of things.
But, for some reason, last night I guess I was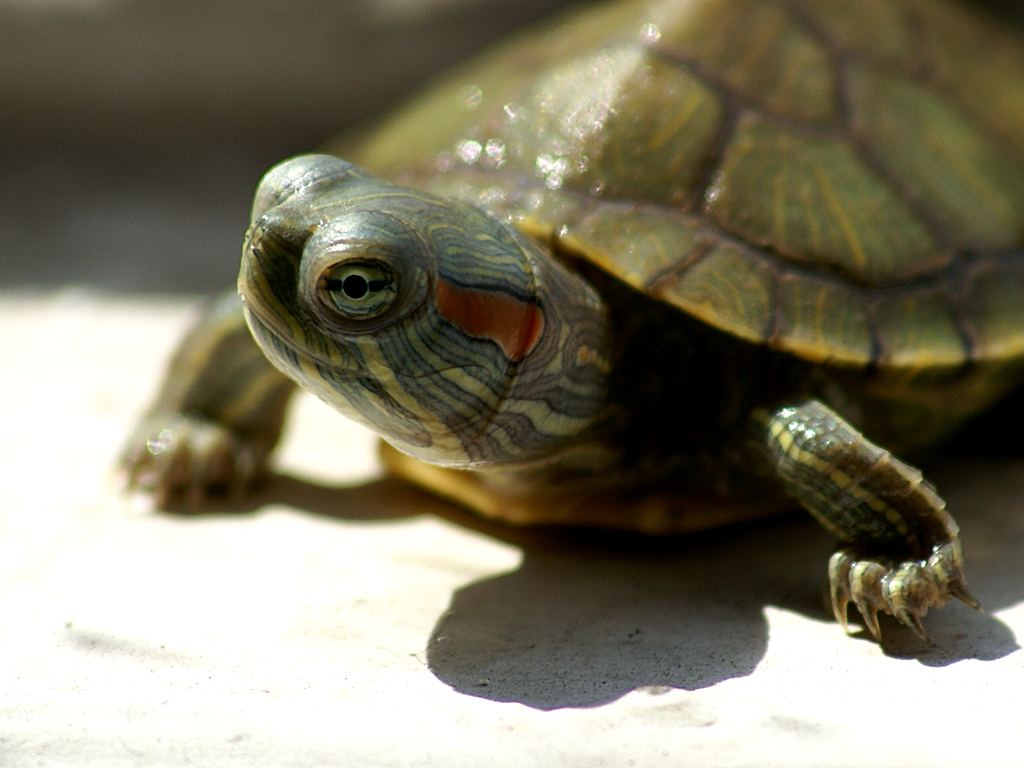 a little more aware of what was going on around me, because I noticed something I hadn't noticed before.
There is a bookcase along one of the walls of the hall that leads to our laundry room.  Our turtles live in an aquarium on top of the bookcase.  Last night as I raced by on my way to attempt to get closer to laundry Nirvana I noticed a stick of deodorant next to the tank.
Why is there deodorant next to the turtles' tank? Do turtles wear deodorant?
Upon closer inspection I recognized the deodorant as belonging to Son#2.
So, I, apparently having forgotten how very unsatisfying the explanations given by children are, decided to ask Son#2 for an explanation.
Me to son#2: Why is your deodorant on the bookcase by the turtle tank?
Son#2: Because that's closer to the dryer.
This, in his opinion, was a thorough, light-shedding explanation.  He started to head up the stairs toward his bedroom.  I wanted a bit more sun to shine on the topic.  I held onto his sweat shirt to slow his escape.
Me: Hang on a second. You have to explain that or I am going to have a stroke.
Son#2: What's a stroke?
Me: You won't like it. It ends with me drooling.  A lot.  Explain.
Son#2: Since it's cold, I get up an hour early each morning and put my clothes in the dryer so they're nice & warm when I put them on. I have to put on my deodorant after I put on my clothes so I need it close.
Me: Where do you put the clothes that are in the dryer? (note: I always put a load in the dryer before I go to bed, so there is one in the dryer every morning.)
Son#2: In the big basket.
Me: The big basket? That's the dirty clothes hamper. It's full of dirty laundry. Why don't you just bring them in the house?
Son#2: I don't have time. I have to get ready for school. That's why I keep my deodorant there. So I'm not late for school.
Me: But, you're coming in the house anyway.
Son#2: Well, I didn't think of that.
To summarize:
The deodorant is next to the turtle tank so Son#2 won't be late to school. (note: Son#2 is usually late to school anyway. Perhaps deodorant location isn't the problem)
The unending laundry at our house is being supplemented each morning by a child who is adding a clean load to the dirty stuff.
And, if I wasn't already too busy washing clean laundry, I think I would have a stroke today just so I could drool on that child!
Laugh Out Loud!
-gina
What confusing behavior do your family members exhibit?  Have you received a crazy explanation for seemingly simple behavior?  Shoot me a comment.  I'm looking forward to hearing all about it.