My Dad's Dadisms …Gina's Favorites
by Gina Valley
It's hard for me to believe it's already been a month since my dad was killed in an accident. I will never get over losing him, but my family and I are slowly beginning to heal.
Happy, funny memories like the ones that inspired this Gina's Favorites post about him help a lot with that process.
Smile along with me.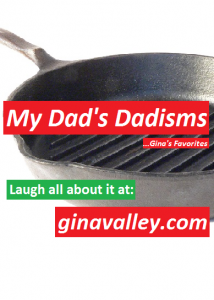 Top 10 Ways to Be A REAL Dad
My dad's a pretty amazing guy.  In fact, the older I get, the smarter he gets!
He's truly got this whole dad-thing down. You can't find a better example. If you're wondering what you need to be a real dad for the long haul, let him help you out:
#10.  You'll need to develop a unique linguistic style. My dad has his own language. He's the only person I know who uses phrases like "Dab gum it!" or "Don't be a panty waist!" (I'm still not sure what that means exactly, but I always took it to mean "Quit your whining and move your arse").
#9.  You'll need to be consistent. Every April 1st my dad goes out to check my mom's car's tires, because every April 1st my mom tells him, as an April Fool's joke, that her car has a flat. Even though he usually remembers it's April 1st long before he gets to her car, he still checks. Just to be sure. Then, he goes back in the house and plays a joke on my mom. I'm predicting fake dog deposits this year, as they have a new puppy.
#8.  You'll need to develop quality control systems. My dad reloads the dishwasher after I load it. Every time. Even at my house. Of course, I do the same thing to him. Apple. Tree. All that.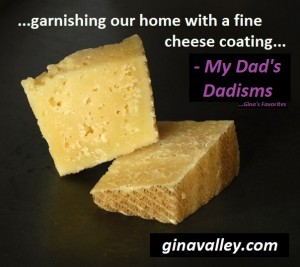 #7.  You'll need to find your center. My dad is the most even-keeled guy I know. I've seen him get his finger caught in an electric auger and barely raise his voice. I screamed at my kids for letting the dog eat the Parmesan cheese last night (in my defense, the dog had run all over our house shaking the container as he went, thoroughly garnishing our home with a fine cheese coating. Nothing like a well garnished home to produce a "scream at someone" kind of moment).
#6.  You'll need duct tape and a tool belt. My dad can fix anything. Anything. If he doesn't have the needed tool he'll get it. If they don't make the tool, he'll make it himself. I've never heard my dad say "I can't fix that." He looks at stuff differently, through Dad-vision glasses. I might see a former seating device, he sees a perfectly good chair that just needs 2 legs, an arm, a back, and a seat.
#5.  You'll need a rod and reel. My dad's an amazing fisherman. If there's a fish in the lake, he'll bring it home for dinner. I'm a pretty amazing fisherperson myself. If there's wild caught salmon at Costco, I'll wrassle a package into my cart every time.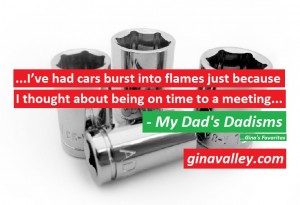 #4.  You'll need to speak "auto" and carry a big wrench. My dad is The Car-Whisperer. He's rebuilt engines himself, left out a couple pieces, and still made it hum like new. I, on the other hand, am The Car-Killer. I've had cars burst into flames just because I thought about being on time to a meeting.
#3.  You'll need to be a nutritionist. My dad always makes sure people get just what they need to eat. When my eldest child was only a few months old, my dad knew he needed some ice cream, and made sure he got some. I admit I wasn't completely supportive of the idea at the time, but the fact that he chose Rocky Road to feed my little toothless wonder might have impacted my opinion.
#2.  You'll need to be a chef of haute cuisine. When I was a child and my dad would cook a meal, he always cooked everything in one pan. When we'd ask why he didn't use separate pans for different foods, he'd reply, "Why? It's all going to the same place." Often, when I survey the mountain of pots and pans I've dirtied making dinner, I see the wisdom in my dad's method.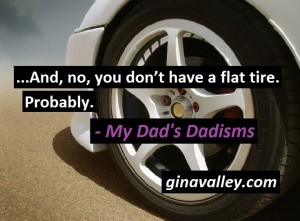 #1.  You'll need to realize that your kids will always be your kids. My dad still dad's me to this day, even as I have kids of my own. He makes sure I have a coat on when it's cold. He reminds me to drive safely. He tells me I need to eat more protein. In other words, he loves me.
Take a page from my dad, and you'll be amazing.
And, no, you don't have a flat tire.  Probably.
Well, you better go check.
Laugh Out Loud!
-gina
What do you see in the dads in your life?  What dadisms should I add to my list?  Shoot me a comment.  I'm looking forward to hearing all about it.
Photos courtesy of 
Stock.xchng
 – Used with permission