Everyone wants some easy cardio, right? I'm guessing, if you do it fast enough and with enough enthusiasm, clicking those little "like" buttons on Facebook pages definitely counts as cardio. Probably. Maybe. Well, it might, so I figure it's worth a try.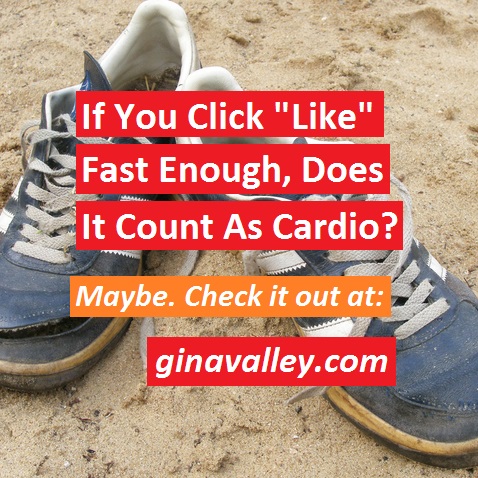 Here's a list of Facebook Pages from some of the writers headed to the Erma Bombeck Writers' Workshop this April to test my theory out on. Check 'em out!
And, be sure to give the gift of support to the wonderful people behind these websites by clicking the like button on each of their pages. I know they'll appreciate it.
Thank you for all of your support!
Laugh out loud!
-gina
Michelle King – Inspiraling In
Marcia Kester Doyle – Menopausal Mother
Gina Valley – Gina Valley
Sherry Stanafa-Stanley – The 52/52 Project
Leah Vidal – Little Miss Wordy
Stephanie D. Lewis – Little Miss Menopause
Lisa Marlin – Lisa Marlin, Writer
Elaine Ambrose – Midlife Happy Hour
Lori Duff – Lori B. Duff 
Joanne Brokaw – Joanne Brokaw, Writer
Shannon Shelton Miller – Shannon Shelton Miller
*Amy Hartl Sherman – Kranky Kitty
Lisa Packer – Lisa Packer, Writer
Linda M. Au – Author Linda M. Au
Debbie Moose – Food Writer Debbie Moose
Susanne Kerns – Susanne Kerns – Writer
Candy Mejia – Slightly Overcaffeinated
Jill Brehm Enders – Fat Free – A 1x woman show
Jill Brehm Enders – Jillbeemusic
Lola Marguerita – Live by Surprise
Mary Levad Lovsted- Farm Girl Cook'n
Becky Brown – Noodleroux
Keith Stewart – A Strong Man's Cup Of Tea
Christine Collins Cacciatore – Cacciatore Starkman Authors
Sarah Honey – Thank You Honey
Anne Bardsley – Anne Bardsley
Jackie Pick – Jackie Pick, Writer
Suzette Martinez Standring – Suzette Martinez Standring
Elizabeth Ryan Catalano – Zoe vs. the Universe
Susan Willett – Life with Dogs and Cats
Missy Stevens – Missy Stevens Writes
Linda Maltz Wolff – Carpool Goddess by Linda Wolff
Jocelyn Jane Cox – Jocelyn Jane Cox – Writer
Allia Zobel Nolan – Allia Zobel Nolan's Books 'n Things
Julie Burton – Julie Burton/Writer
Fred Marion – Fredrick Marion
Molly Stevens – Shallow Reflections
Lois Paige Simenson – Lois Paige Simenson Author
Lee Gaitan – My Pineapples Went To Houston
Angie Klink – Author Angie Klink
Kim Davis Reynolds – Kim's Crazy Life
Yvonne Ransel – Yvonne's Musings
Amanda Hill – Amanda Beth Hill Writer
Anne Parris – Midlife Boulevard
Colleen Dilthey Thomas – Come on Colleen
Jennifer Gregory – The Runaway Mama
Glynis Ratcliffe – Glynis Ratcliffe, writer
Shannan Ball Younger – Between Us Parents
Tassie Kalas Haney – Tassie Types
Liz Dubelman – VidLit Productions, LLC
Leslie Gaar De Ostrovich – Pails and Fires
Tori Chickering O'Connell – VC Chickering
Sara Neal Given – It's Like They Know Us
Carol Michel – May Dreams Gardens
Tracy Eisenman Curtis – Tracy Lee Curtis
Laurie O'Connor Stephans – We B Late
Julie Vick Harber – Julie Vick Writer
Amy M. Zlatic – Amy M. Zlatic
Donna Sword – Raising a Super Dog
Julie Osborne – Oz and Toto
Cindy Ratzlaff – Cindy Ratzlaff Brand New Brand You
Cindy Ratzlaff & Kathy Kinney – Queen of Your Own Life
Tracy Beckerman – Lost in Suburbia
Dorothy Rosby – Dorothy Rosby
Becky Koop – Becky B Koop
Lisa Kanarek – Forgot to Tell You
Roxanne Jones – Boomer Haiku
Kimberly Joyce Dalferes – Kim Dalferes, Author
Tammy York – Creative Tsunami
Julia Roberts – Decoding Creativity
Anne-Marie Yerks – Anne-Marie Yerks
Bonnie Jean Feldkamp – Bonnie Jean Feldkamp
Stacey Lowrey Gustafson – Stacey Gustafson
Brian Rutter – Burb Man Tells All
Wanda Argersinger – Wanda M. Argersinger, Writer
Randi Mazzella – Randi Mazzella writer
Karen Galatz – Muddling through Middle Age
Lynne Cobb – Lynne's Cobb's Writing Corner
Chris Wilcox – Go Write Through It
Be sure to "click" like on the pages from your personal Facebook profile, so the like will add to each of the pages' total like count.
Thank you again for supporting these writers!
Photo courtesy of Freeimages.com – Used with permission.