How To Choose Your Relatives
by Gina Valley
You can't choose your relatives.
Or…can you?!?!
I've been a fan of Eli Pacheco's Coach Daddy Blog, and the wonderful community he has there, for ages, so I was honored and excited when he gave me the opportunity to do a guest post for Coach Daddy.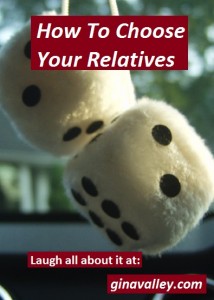 Join me over at Coach Daddy Blog to laugh about choosing our relatives.
Here's a snippet of what you'll find there:
They say, "You can't choose your relatives."
I don't know who "they" are, but I say "Bologna!"
Sure, most relatives are inherited, but in-laws, those you chose. I have to admit my in-law selection didn't turn out exactly like I thought it would.
So, in typical OCD fashion, I'm leaving nothing to chance in regard to my future children-in-law. I've made a list. I've checked it twice. All concerned parties have been notified as to the requirements, so they'll easily be able to consider my wise recommendations as they chose their mate.
Naturally, I wouldn't complain if they were amazingly wealthy. After all, I'd like to live out my golden years in the manner that I have not yet had the opportunity to grow accustom to. And, they have to like board games. I don't know why, but that seems to be necessary for family harmony.
Of course, I want my future children-in-law to be good people, honest people, people of our faith, people who will cherish the perfect imperfections of my children (and me, should I ever develop any), educated, have a great sense of humor, yada, yada, yada.
But, what about the truly important stuff? What about the nitty-gritty, day-to-day, how-did-we-ever-live-before-this-person-joined-our-family stuff?
I want my 7 children to find partners who will provide mastery over the Seven Makes-Me-Wonders of The Modern World….

Click on over to Choosing Your Relatives on Coach Daddy Blog to get the rest of the giggles. And, be sure to drop me a comment to let me know what you think (and to say hi to Coach Eli!).
As always, the extra click to get there counts as cardio. So, click on over, 'cause let's face it, we can all use some extra cardio.
Laugh out Loud!
-gina
Did you click on over to read the rest of my post? If not, go ahead & I'll wait right here (most of us have or will have in-laws, so it's always a good idea to pick up some tips about them). Then, let me know what you think, ok? I'm looking forward to hearing all about it.