Where's The Sparkly?…Gina's Favorites
by Gina Valley
We're wrapping presents today. Seems like a good time for this Gina's Favorites post. Giggle with me.
Where's My Sparkly?
I'm a bit distressed this morning because I can't find the little velvet-covered jewelry box that holds my favorite sparkly.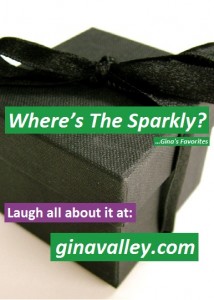 I keep it in my china hutch in our dining room.
Yes, I know that's strange.