I Left My Brain At The Car Rental Counter!!! …Gina's Favorites
By Gina Valley
I'm traveling this week & this timely topic came to mind. Laugh along with this Gina's Favorites post.
I Left My Brain At The Car Rental Counter!!!
I rent cars frequently, so you'd think I'd be good at figuring out how to use the gadgets in an unfamiliar vehicle. But, you'd be wrong.
Generally, I muddle through as I meet each new set of wheels. Occasionally, I'm briefly baffled, but usually I figure most everything out.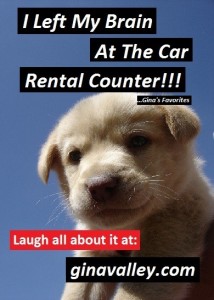 This time, though, I was nearly inept.
Maybe it was because I've never rented this brand (I think the proper term is "make" of car, but we use the word "make" to tell our puppies it's time for them to poop, so I have trouble using "make" to describe a car without giggling. I'm giggling now) of car before.
Maybe it was because I didn't get the usual 30 second run down on the car's quirks from the rental car agent.
Maybe it was because I only slept 3 hours the night before.
But, whatever it was, clearly, my brain was slipping a gear. Maybe two.
I could not turn off the blinker.
I pushed the turn signal bar down to signal a left side lane change, and then pushed it back up to turn it off. But, that did not turn it off. It, instead, turned on the right side turn indicator. I assumed I had pushed it up too far, so I pushed it down a tad. This, of course, turned the left side signal back on.
I repeated this futile exercise 6 or 8 times, convincing the drivers around me that I had completely lost my mind or was harboring battling personalities, before I accidentally pushed the bar forward, turning off the signal the way many cars activate their high beams.
Then, I panicked, worrying about a possible high beam emergency ensuing any second, because I realized I had no idea how to turn on the high beams. I never did figure out how to activate the high beams. Fortunately, there were no high beam-necessitating emergencies.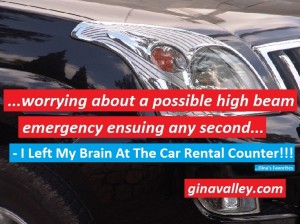 I was blasting the radio, which I love to do when driving alone. But, when I needed to turn down the volume, I kept reaching for the knob in the place it is in most cars. Turns out that is the fan speed controller in that car, and it didn't work well at all to turn down the radio volume.
I repeated this feat of brilliance at least a dozen times during the drive. Each time I was surprised the volume was unchanged, and each time I was then immediately thankful my thoughts were not broadcast over the internet for all to share in my stupidity. Especially for that 12th time.
Not only was I volume-control-impaired, I was also sound-direction-impaired. All of the radio sound was coming from the right side speakers. I couldn't figure out how to change that, even after I parked the car and closely examined the controls.
My right ear was the only one processing the sound, and that made it feel like my left ear had gone deaf. I briefly wondered if I could somehow manage to drive while seated backwards so as to give my left ear a chance at some action, but decided against it when I realized I still needed to figure out how to turn on the windshield wipers.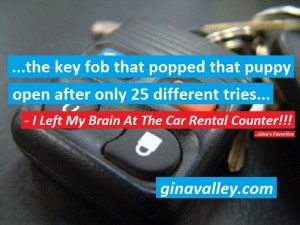 Just getting out of the car I somehow activated the hazard lights.
And, search as I did, I could not find a button to push inside of the car to pop open the trunk. Thankfully, there was an icon on the key fob that popped that puppy open after only 25 different tries. I was glad I didn't have to try to explain to everyone at the meeting that my notes were locked in a car with an unopenable trunk & vertigo-inducing speakers.
By the time I walked into the conference room, I felt like I was rapidly morphing into an idiot (I might or might not have gotten off on the wrong floor on the way up. Seven and five are very similar, you know).
Then, as I waited for the meeting to begin, I remembered I never turned off the car's hazard lights, and realized my transformation was complete.
I had, obviously, left my brain at the rental car counter.
Or, maybe I locked it in the trunk.
Laugh Out Loud!
-gina
Do you ever feel like your IQ has fallen out your ear?  Do you adapt quickly to driving an unfamiliar vehicle, or do you find yourself unable to unlock the doors?  I'm looking forward to hearing what you have to say. Luckily, there's a handy "comment" button right on this page!
Photos courtesy of 
Stock.xchng
 – Used with permission.