I Can't Wear White!
by Gina Valley
I figured, if I hurried, I wouldn't see anyone I knew.
Clearly, I was out of my mind.
I'd fallen asleep sitting up on the sofa sometime in the wee hours of the morning. Maybe the column I was working on wasn't quite as entertaining as I thought it was.
The dog woke me up. Nature was calling him, apparently. Why must Nature always call before 6:00AM when I'm exhausted?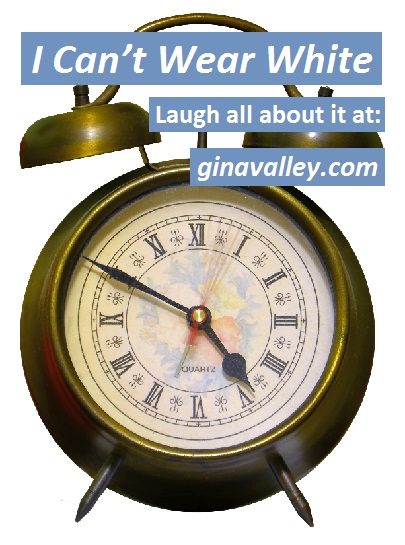 I stumbled into the kitchen to start breakfast for my pack, and realized there was nothing to start breakfast with. So, I'd grabbed my keys and rushed out to the grocery store.
Halfway there I was awake enough to notice that I was still in the clothes I'd slept in, hadn't brushed my hair or teeth, and yesterday's make up was pooled under my eyes. I realized I was practically forcing the Universe to make my path intersect with everyone I've known since 3rd grade.
But, we were out of milk, bread, eggs, fruit, you know, just a few slightly important ingredients for making breakfast and packing lunches. So, I had to make the risky half mile dash to the closest grocery store.
I was shocked, shocked, that I gathered all the items we needed, plus a dozen more for good measure, in record time, and without seeing anyone I knew. Even the cashier wasn't one of the usual suspects.
I felt the Universe smiling at me as I pushed my cart full of bags toward the door.
Then, I realized the Universe was not smiling. It was smirking. And, maybe snickering. Yes, I could definitely hear snickering.
Walking in through the door that I was heading toward, too close for me to dodge, was my friend, Julia.
Julia looked perfect. She always looks perfect. Even at 6:11am in the grocery store, which she stopped by to drop off her extra plastic grocery bags for recycling, she looked perfect.
My extra plastic grocery bags were crammed under our kitchen sink, destined to be called into duty as lunch bags on a morning when every lunch box and paper sack we owned had simultaneously disappeared.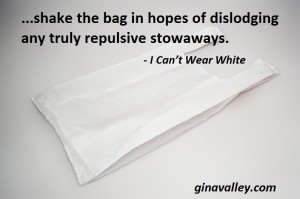 Julia's daughter, Claire, never took lunch to school in a grocery bag. She has 3 different lunch kits, which Julia alternates to ensure they are aired out and bacteria-free.  I, on the other hand, shake the bag my kids will tote their lunches to school in over the sink, in hopes of dislodging any truly repulsive stowaways. I figure anything that doesn't shake off probably is good for building up their immune systems. Besides, most of the lunches my kids take get traded away or lost long before lunch time anyway.
Julia was wearing a white linen suit. White. And, it was crisply ironed and smudge-free. I can't even get a package of white socks home from WalMart smudge-free. I'd never be approved to gain custody of a white suit. The only pair of white jeans I ever owned got a strawberry jam stain on them before I'd even worn them, and subsequently turned pink when I washed them. I can stain white clothes with just whipped cream. I figured I better not stand too close to her.
I've known Julia for years. She's wonderful, and I love her. But, I hate her. Not hate hate her, just "oh geez why must she always be so together when I'm falling apart?!?!" hate.
The worst part is (now you ladies will understand this, but guys this will make no sense to most of you) Julia is really a nice person. Not fake nice.  Truly nice. She really is a wonderful person.
She's always happy to help, never gossips, and is the absolute best room-mom ever (I never request particular teachers for my kids, but I always ask that my daughter be in Claire's class). Even when she's exhausted she's not crabby.  I only have to think about being exhausted to get crabby.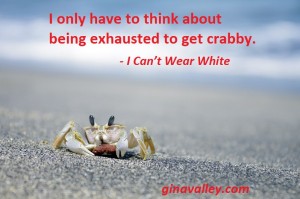 Julia greeted me warmly. I kept the cart between us. I didn't want to put her white suit at risk.
She smiled broadly, lipstick perfectly shaped, pearly whites perfectly pearly and white. I smiled back. At least I think I did. I was so busy calculating whether there was a bigger chance of spinach or Oreos being stuck on my teeth that I'm not sure whether I smiled or just grunted in her direction.
We did the quick version of the how're-the-kids-hub-and-life small talk, both of us knowing the before school hours pass quicker than most.
As we parted, Julia said, "You know, G, I'm so impressed that you can get your grocery shopping done so early. I wish I could be spontaneous to like you, but it'd mess up my schedule for the whole week. I could never pull it off."
Loading my bags into the trunk, I almost felt a little sorry for Julia. She seemed to be so beholden to her schedule; such a prisoner to her own perfection. Maybe she was right. Maybe I'm not unorganized. Maybe I should stop reaching for perfection, and embrace spontaneous.
I looked down and realized my shoes were different colors.
And, they were both for right feet.
And, I thought, "Maybe a little perfection might not be so bad."
Laugh Out Loud!
-gina
Do you have a friend who always seems to have it all together? Do your shoes match?  Shoot me a comment. I'm looking forward to hearing all about it.