Can You Horizontal Mambo With 2 Left Feet?
by Gina Valley
Knocking Boots.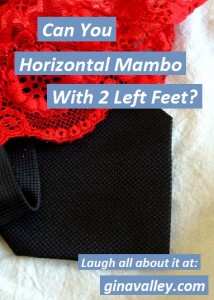 Sheet Dancing.
Listening To Music.
Grown Up's Time Out.
Afternoon Delight.
Cleaning Out The Closet.
Watching Scary Movies.
Exercising.
Making The Bed.
Flippin' The Mattress.
Horizontal Mambo.
And, my favorite, "Fellowship Time," which seems so wrong, but absolutely makes me laugh.
I quizzed a group of my friends, each of whom have several young children, about their code words are for "You Know What." The ones who could remember what "You Know What" is provided me with the above nicknames.
Marcia Kester Doyle, The Meno Mama, asked me to talk about something funny on her giggle-filled website. It's hard for me to think of anything funnier than our efforts to try to "Scratch the Itch" or "Polish the Doorknobs" after we've become a family.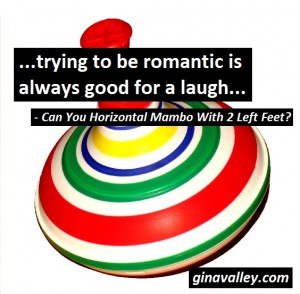 Let's face it, a lot of life is occasionally funny, but trying to be romantic together is almost always good for a laugh. If you have kids, it's good for a bushel full!
Today, I have the privilege of guest posting on Marcia's fun site Menopausal Mother.
Join me to laugh about some of the many ways the "fellowship" train runs into road blocks in my This Is Not About Having "You-Know-What" post on Menopausal Mother.
Here's a snippet of what you'll find there:
…If the dog is in the house, you will not be able to successfully have fellowship.  Apparently, the noises of fellowship sound somewhat similar to the noises of distress, causing the ever-vigilant dog to hurl himself through the air in an effort to protect you from what he is clearly assuming to be an alien force.
He will chomp down on the most obvious, first available part of the "alien" in an effort to save the lady who provides him with food and a clean blankey.  The "alien" will need 6 stitches and a very soft chair for more than a week.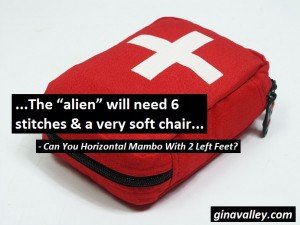 If your children are not at home you will not be able to successfully have fellowship.   Your mother-in-law, who ironically wants you to have more children, will call to have you settle the argument between her and your father-in-law about which year they purchased their refrigerator.
She will call repeatedly, leaving ever more panicky messages.  She knows you work from home, and, since you're not answering the phone, she will assume you have fallen and are lying on the floor in your kitchen with a broken neck, because you would not buy the non-slip rugs she told you you should get at IKEA the last time you were there…
Please join me over at Menopausal Mother for the rest of the giggles.
You bring the chocolate. I'll bring the laughs.
As always, the extra click to get there counts as cardio.
Laugh Out Loud!
-gina
What are you waiting for? Come on, click on over. You know you want to. Plus, don't we all need a bit more cardio? And, some tips on how to avoid situations that are hazardous to your "fellowship" efforts? ;o)