You know how some days you wake well rested, your hair goes just right, and you have several clean outfits at the ready? Yeah, me neither.
Usually, I wake in a panic and spend the day in survival mode, hoping I don't have car trouble on my way home from my kids school, so I don't end up standing on the side of the road in my pajamas.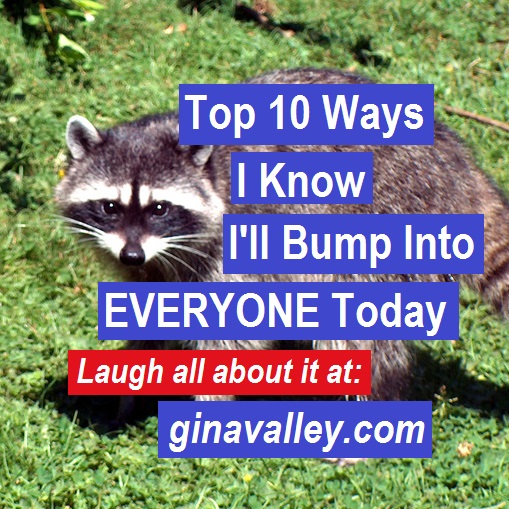 I work from home most days, so I don't usually see anyone except the UPS and FedEx guys, and frankly, even at my finest, I don't shock them. They've seen some things. I've heard their stories.
But, sometimes, I just know I'm going to bump into someone. I get a feeling, a sense really, that I'm going to encounter somebody. Not just anyone, mind you. But, everyone. Or, at least everyone I haven't seen in a while.
The bigger mess I am, the stronger the feeling is. It never fails, but I still try to beat the odds when I just need to run a quick errand.
That feeling usually washes over me as I catch a glimpse of my reflection in the window of the post office as I dash in to drop a letter in the slot or in the grocery store window as I do a speed return to the Red Box.
In that moment, as I gaze with ever increasing panic at myself, I realize I'm definitely about to bump into someone, and probably about to bump into everyone. And, that it's too late to do anything about it.
Top 10 Ways I Know I'll Bump Into Everyone Today:
#10.  I woke up with a pimple so large my youngest child asked if I'm becoming a unicorn.
#9.  I realized I forgot to brush my teeth when I got up because my breath is burning my own eyes.
#8.  I took time to completely do my make up yesterday morning, but I forgot to take time to scrub it off before bed last night. Now, it's gathered into deep, dark, semi-permanent pools under my eyes, and I'n not exactly rockin' the rabid-raccoon look.
#7.  I had to choose between the only two clean pairs of pants in my closet, the fuzzy Minions pajama bottoms or the 7 year old yoga pants with the hole in the seat and the worn out elastic, and I went with the hole-y, droopy yoga pants. Who knew yoga pants could droop? I just hope it's the yoga pants that are drooping.
#6.  I tried to hide my holey-seated, droopy yoga pants by wearing what I hoped is a clean-smelling tunic.
#5.  The fingernail on the middle finger of my right hand is coming off, so I wrapped it with bandages to keep it from getting hooked on things. Now it looks like I am flipping someone off all the time.
#4.  My socks might be clean, but they definitely don't match. My shoes almost match. Sort of.
#3.  When I opened the door of our car to get out, a silver Diet Pepsi can, two half-full water bottles, and a flock of used tissues blew out.
#2.  My hair is so frizzed out I wonder how I got into, much less out of, the car.
#1.  I forgot my wallet, so I'm paying for a gallon of milk with sticky, fuzzy coins I found down the seat of the car.
Yeah. Definitely going to bump into everyone today.
Probably twice.
Laugh Out Loud!
-gina
How can you tell you are about to run into someone you haven't seen for a while? Shoot me a comment. I'm looking forward to hearing all about it.
Photo courtesy of Freeimages.com – Used with permission.