Top 10 Back To School Super Powers …Gina's Favorites
by Gina Valley  
Laugh along with this timely Gina's Favorites post.
Top 10 Back To School Super Powers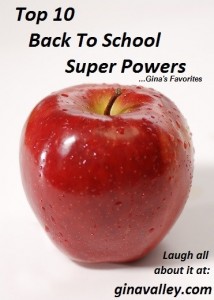 Faster than a ringing tardy bell.
More powerful than a tub of yogurt left in a backpack last June.
Able to blurt out 7×8 is 56 (remember 5,6,7,8).
It's a caffeine-aholic. It's a Zombie. No! It's a Super Powered Parent.
If your kids have headed back to school, you'll be one, too. Here's ten of the many Super Powers you'll develop as a result of that school bell ringing.
Top 10 Back To School Super Powers
#10.  Super Speaking – Utter never-before-heard curses daily while attempting to navigate the school parking lot.
#9.  Super Time Dissolving – Watch even your very hope of free time disappear, while assisting your children with classwork they didn't finish at school, because they were too busy talking to the kid sitting next to them or sleeping on their desk because they were up all night playing Clash of Clans on their iPod.
#8.  Super Gaming – Hone your skills at Mom (or Dad), Who Took My…? every morning. You'll be a master of every version of the game, including Mom, Who Took My Shoes?, Mom, Who Took My Backpack?, Mom, Who Took My Lunch?, Mom, Who Took My Retainer?, and the special private parents-only version of the game Who Took My Mind? I've Lost It Again!
#7.  Super Creating- Materialize a Paul Revere Costume, a birthday gift for the teacher, or 6 dozen cupcakes with less than an hour's notice.
#6.  Super Tooting – Hone your car-horn technique, so even your neighbors hear it clearly speak, "Hurry up! We're late!" when you ever so delicately blast it from the driveway, in a futile attempt to rush a teenage daughter, who is changing her outfit. Again. For the 13th time.
#5.  Super Signing – Perfect your autograph by signing 56,000 forms for each kid during the first week of school, after carefully filling them out and making corrections where necessary. As a bonus, you'll finally memorize your own cell phone number after writing it on every one of those forms, in the kids' backpacks, and on your youngest son's forehead.
#4.  Super Scaling – Conquer mountains of laundry so tall they're thought only to be the stuff of legends. After all, when school is in session, if they have even thought about trying something on, kids think it needs to go through the laundry again.
#3.  Super Speed – Drop your mile time by running through the morning circuit training of dashing from room to room, re-waking up the kids you've already woke up twice.
#2.  Super Mind Reading – Practice your clairvoyance as your daughter assumes you know she wants to wear her 5 Seconds of Summer t-shirt on Wednesday to match Lindsey, your son assumes you know his pockets have snails in them, and they all assume you know what those papers the teacher sent home with them said, even though they never gave them to you.
#1.  Super Cloning – Bring snacks to a soccer game, measure kids for their drama costumes, and pick up kids from hip hop lessons at exactly the same time, in locations that are at least 20 miles apart.
I'd love to see Superman or Wonder Woman try this gig.
Laugh Out Loud!
-gina
Are your children heading back to school? Which Super Power do you use most? Shoot me a comment! I'm looking forward to hearing all about it.
Photos courtesy of 
Stock.xchng
 – Used with permission