Is Brown The New Black? 
by Gina Valley
We have the world's ugliest ceiling fan.
Check the book. I'm sure we're in there.
It's really more of a "dangling precariously" fan, than an actual ceiling fan.  It's hanging in our entryway, nowhere near the 16 foot ceiling.  It seems to be slowly heading toward the floor at a rate of an inch or two a year.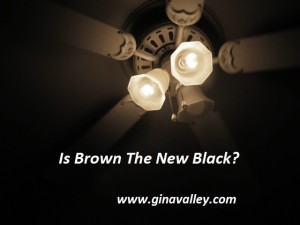 And, it doesn't even "fan."  The chain that should hang down to allow us to turn on the fan part apparently got caught on the fan, wrapped around the works and embedded itself into the mechanism in a hopelessly non-removable way.  The only time this fan spins is when it's pelted with an errant football pass or a soccer ball header.
It has a light fixture underneath that does provide some light in our dark entry way.  Sometimes as many as 2 of its 5 tiny bulbs light completely at the same time.  It's not exactly blinding illumination.  It's more on the scale of a bathroom nightlight.  But, less dependable.
Last week the fan's pilgrimage toward the floor reached such an extent that the green and red wires connecting it to the electrical supply, and I'm guessing the only thing tethering it to the ceiling at this point, became visible.
Much as I appreciated the festive addition to our holiday décor, my patience with the fan's ugliness, uselessness, and now possibly "gonna-shock-us-all-ness" had reached its end.
The Professor "sensed" my displeasure, i.e. heard me making up new cuss words in describing the electrical behemoth to my neighbor while asking for the number of her electrician.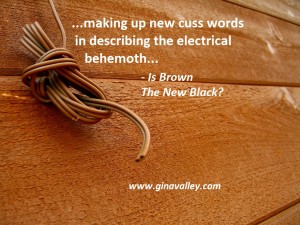 My dear husband then told me that I didn't need to call an electrician.  He would change the fixture himself, something he clearly thought I would find helpful and reassuring.  I instead found it to be a good reason to quickly put the electrician's number into speed dial, right next to the emergency room's number.
"I'll take out the fan, and have the new fixture up before lunchtime," he announced this morning in a manner much too cheerful for an amateur electrician.
"What new fixture?" I asked.
"The one you picked out," he replied.
I didn't recall having gone to the home improvement store for a new fixture.
"Remember?" he continued.  "You said that you hated the fan, and you showed me which chandelier to order to replace it," he reminded me.
"That was 10 years ago, when we moved in," I reminded him.
"Really?  That long?  Well, I saw it in a big box in the garage.  It'll be up today," he said confidently.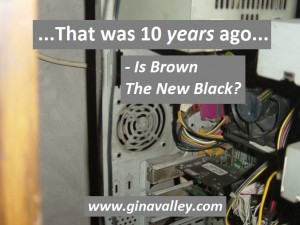 I was not feeling confident. In fact, I figured he would get distracted by our hectic life and forget all about it.
I'd just call an electrician later.  The Professor probably wouldn't even notice.  Home décor is not really his thing.
My youngest asked me what the new fixture looked like.  I couldn't remember which chandelier I'd decided on way back then. I knew I'd narrowed it down to two: black wrought iron to match our staircase balusters or a nickel-silver color to match our door hardware.  "I'm not sure," I told him.  "But, I know it's either black or silver."
Lo and behold, after a mere 10 hours and a few minor shocks, and despite a ladder mishap which is deserving of a column all its own, the fan was gone, and in its place there was a glowing light fixture.
"Mom?" my youngest said to me, looking up at the glowing metal tangle.  "That's not black."
"No," I said.
"And, it's not silver," he continued.
"No, it isn't," I agreed.
"So, what is that?" he asked.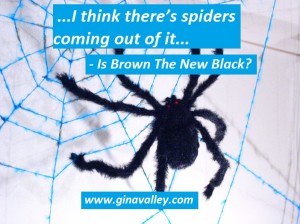 "Well," I whispered to him, as I looked up at an enormous brown chandelier. "That is the ugly chandelier from the house we lived in before this one."
"What's it doing here?" he asked.
"It was supposed to be left with the recycling when we moved. Ten years ago.  Something tells me it wasn't."
"It's really ugly, mom.  And, I think there's spiders coming out of it," he added as he stepped further away from the huge, brown, metal monstrosity.
I'll just call an electrician later.
The Professor probably wouldn't even notice the change.
Home décor is not really his thing.
Laugh Out Loud!
-gina
Are you a do-it-yourself-er? Or are you more a call-someone-to-do-it-er?  Have you had any DIY disasters?  Shoot me a comment.  I'm looking forward to hearing all about it.