Top 10 Topics My Sons Are Bickering About …Gina's Favorites
by Gina Valley
Listening to a couple of my kids argue about which side of the field had the greenest grass while we waited for their brother to finish at soccer practice yesterday brought this piece to mind. Laugh along with this
Gina's Favorites
post.
Top 10 Topics My Sons Are Bickering About
They say children help you live longer. I say it just feels longer.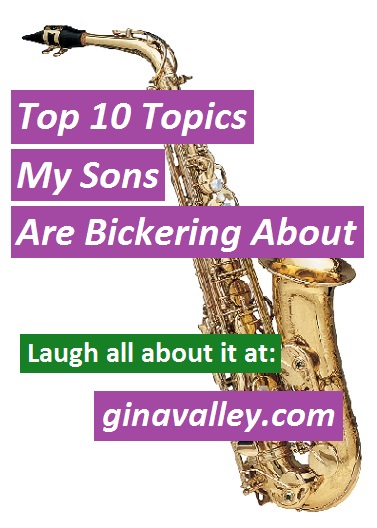 Take Sunday afternoon, for example.
Please, take it.
I had planned a relaxing afternoon for our family. Unfortunately, I neglected to consult the Calendar Of Childish Insanity prior to making my plans.
If I had consulted it, I would have been advised that my 2 youngest sons were scheduled to slip into grumpy-old-men mode and to bicker all afternoon.
What did they bicker about? "What didn't they bicker about?" would be an easier question to answer. But, here's a few of the vitally important topics they decided to debate in a seemingly unending manner:
Top 10 Topics My Sons Are Bickering About
#10.  The correct way to pronounce "era." It's ear-uh! It's air-uh! It's ear-uh!! It's air-uh!! It's ear-uh!!! It's air-uh!!! It's enough to drive everyone around them insane.
#9.  Is it ok to eat the bread (cracker piece) before the wine (grape juice) when you're taking communion. Yes, that was the argument they were having when our pastor had to stop preaching to shush them. Twice.
#8.  Whether trumpets or saxophones are better…for killing zombies.  I guess they want to be prepared in case zombies show up at their next band concert.
#7.  Which of our dogs is smarter. I've got news for them – I don't think either dog is going to be asked to join Mensa anytime soon.
#6.  Whose turn it was to tell their sister that it's her turn to take out the trash. I think I saw the cat roll his eyes before burying his head under a pillow during this exchange.
#5.  Whose boxers are on the floor in our dining room. Yes, dining room. They argued about this for half an hour, and then decided the boxers did not belong to either of them. Apparently, they believe our neighbors are dropping by in the middle of the night, and leaving underwear in our dining room.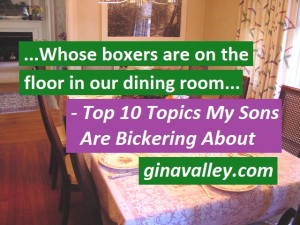 #4.  Why a pencil is called a "pencil." Seriously. This banter was so horrible it even sucked the life out of our few living houseplants.
#3.  Which of the twin brothers who are teachers at their school looks more like "that guy in that movie." That's right, they couldn't remember the guy's name or the movie's name, and were undeterred by the fact that these 2 men are identical twins.
#2.  Who should have to get out of our van first. Keep in mind this lovely discussion, complete with insults and whining, took place while the two boys, who normally race to see who can get out first, were seated exactly equal distances from the door, both, apparently wanting to live out their days inside of our van, subsisting on the plentiful supply of stale Cheerios and petrified chicken nuggets crammed down the seats.
#1.  Whether some guy, named Zak, cheated when he ran a 6 minute mile in PE…last year. They nearly came to blows over this one, and, frankly, I don't even know who the heck Zak is, much less care if he cheated.
Now, where did I put those boarding school brochures?
And, do they take moms?
Laugh Out Loud!
-gina
Have you been witness to a marathon bicker-fest in your family? Anyone grumpy in your neck of the woods? How do you handle it? Shoot me a comment. I'm looking forward to hearing all about it.
Photos courtesy of 
Stock.xchng
 &
Dreamstime.com
– Used with permission