The Best Laid Plans
by Gina Valley
Sometimes the best things are the things you didn't plan for.
Yesterday was set to be a nonstop, rush around try-to-do-everything-and-be-everywhere kind of day.  I had kids competing in 3 different sports tournaments in 3 different cities.  I'd had a doubly full week and still had a big pile to finish from it.
I made my schedule, stressing over only being able to see only part of each child's tournament and needing to have perfect traffic conditions to do even that.  I live in Los Angeles.  Perfect traffic conditions are few and far between.
I charged my laptop and hotspot and prepared to get some work done during warm ups and half times.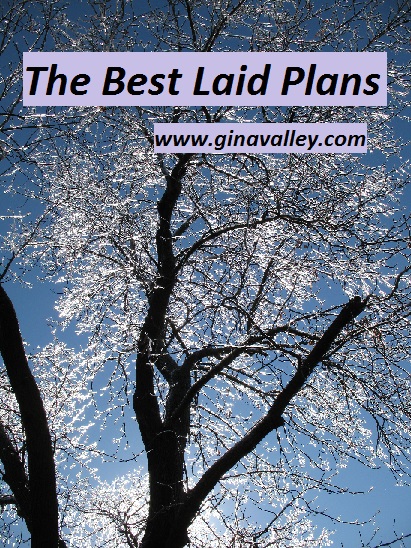 It was a plan. A perfect plan. A perfectly stressful plan. But, what else is a Supermom to do?
She's to throw all the planning out the window, whether she wants to or not.
That's just what I did. I didn't want to. I didn't plan to. But, I had to.
When I rose to wake my children to begin our mad dash of a day, it was raining.  Not that lovely pitter patter that makes you think that winter is finally arriving and it's time for hot chocolate and a good book.  The kind that makes you wonder if you need an ark.
I knew that rain spelled the end of my carefully diagramed and color coded plan.
Rain wouldn't affect the tournaments.  One was a basketball tournament.  It's held inside and they have heaters and sell hot chocolate. Two were soccer tournaments, and ankle deep water or marble sized hail won't make soccer reschedule. Soccer is only cancelled if the field owner closes the fields or there's lightening.  Neither of those was happening.
The rain triggered the end to my attempt to be everywhere because it removed any possibility of positive road conditions and my ability to get some work done on the sidelines.  Rushing on the roads in the rain is stupid and I refuse to do it.  My laptop doesn't like to be wet, so it'd be staying home.
Time for a new plan.
We sent out a family contingent to each tournament, where they would remain for the duration of their assigned tournament.  No rushing to try to catch a game at one of the others.  No shuttling and juggling.  Just stay there.
I took my 12 year old to his soccer tournament.
I must say, it was an absolutely miserable day weather-wise.  But, at the end of the day, I realized it had been an absolutely glorious day relationship-wise.
I got to spend 12 hours one-on-one with my 12 year old.  Any parent of many will tell you that time with only one child is rare.  Twelve hours of it is almost unheard of.
For me, though, it was rarer than that.  You see, I can work anywhere.  That's a blessing and a curse.  It allows me to be at kid-events that I would have to miss if I were tied to an office because I can work while I'm there, which I'm thankful for.  But, it also means that I have sometimes have to work while I'm at kid-events (or sit there feeling guilty, listening to deadlines flying by) even though I don't want to.
But yesterday, thanks to the worst weather we've had in ages, I was isolated with my son with no possible way to work.  I was able to wholly focus on him, without feeling guilt from missing his siblings' events or from pressing work obligations.
I never work while my kids are playing, but I usually do while their teams are warming up or off at halftime huddling around their coaches.  Yesterday, I was able to focus on watching my son during those "off" times.  Watching him goof around with his teammates reminded me what a joyful person he is.  He can find something to laugh about anywhere.  He had them all in stitches, even their stoic head coach.
In between games, instead of making the mad dash to get food, and then letting him run off to hang out with his teammates, the weather dictated that my son & I hang out in our van with the heater blasting after we got breakfast & hot chocolate.  We talked and giggled and even took a short power nap.  It was so nice that we repeated our break power nap later during the second break.
I got to spend what was going to be a rushed frazzled day, just hanging out with my kid, listening to his stories, seeing him in action, hearing him sleep.  He even gave me some career advice.
Yes it was cold and we were soaked.
Yes, they lost every game, some almost embarrassingly so.
Yes, I clearly suffered frost bite on my brain because we spent 2 hours in Costco on the way home.
But, being one-on-one with him for 12 hours was awesome.
I got something much better than my best laid plans.
Best.
Day.
Ever.
I hope your best laid plans get messed up, leaving something better in their wake, too.
Love!
-gina
Have you ever had a day where everything was right because everything went wrong?  Are you a "planner" or a "come-what-may'er"?  Shoot me a comment.  I'm looking forward to hearing what you think.
Photo courtesy of Stock.xchng – Used with permission