A Day At The Beach Is No Day At The Beach!!! …Gina's Favorites
by Gina Valley
We've been spending a much time as possible at the beach this summer, so I figured my 
A Day At The Beach Is No Day At The Beach!!!
post would be just right for
Throwback Day
this week. Laugh along with this
Gina's Favorites
post.
A Day At The Beach Is No Day At The Beach!!!
Some people travel to the seashore to breathe in the salt air. Some, to watch the majestic waves crash onto the shore. Others, to relax on the warm sand.
We go to the beach so our kids will have a new place to whine.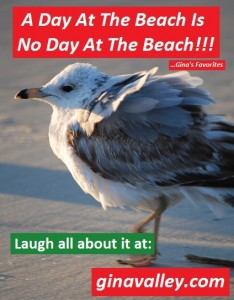 These same children who have been whining about wanting to go the beach every day since we left there last week, began whining, "How long do we have to stay?" and "It's so cold!" before we'd even finished hiking from our van to the sand today.
Granted, the wind was a bit chilly, and there were small icebergs floating around in the water, but that's why everyone is supposed to bring a sweatshirt. Or, a parka. Whichever. Weather at the shore is a bit unpredictable.
We visit the beach weekly during the summer, but somehow my kids are not only surprised, but actually disgusted by the sand that tends to be pretty much everywhere. I've never understood this. I'm fairly certain it's the sand that makes the location a beach in the first place.
My children nearly will themselves to hover in an effort to avoid touching the offending grains. Naturally, these same children are the ones who shower everyone nearby with a sandstorm as they repeatedly shake out their towels in a quest to create the perfect, lump-free sunning zone. The sand shower recipients then feel a responsibility to whine about their sandblasting to everyone within earshot.
Not to be limited to the sand medium, my kids charged into the water, where they found all sorts of additional material to add to their whining repertoire. Naturally, the water was too wet and too cold. But, they also wove complaints about slimy seaweed chunks, possible shark sightings, and arguments about who caught the largest wave on their boogie board into the mix.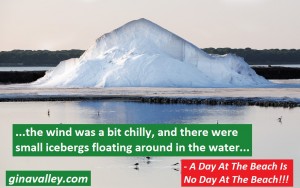 My kids, as they always do, drifted farther and farther down the coast, away from me. I like to maintain the illusion that, were they to run into trouble in the water, I could dash over, dive in, and swim to their aid.  That illusion is tough enough to sell when they're bobbing 50 yards out in the water, straight in front of me.  It's nearly impossible to pull off when they have drifted down the coast into the next county.
Plus, they use the 6 miles of waves and seaweed between us as a convenient excuse to pretend they can't hear me when I'm asking them important questions, like "Are you cold?" "Did you unplug your curling iron before we left?", and "Where is your bathing suit?"
Fortunately, we were able to find a spot right next to the life guard shack.  This provided me with a feeling of security. In the event my kids needed rescuing and I were to charge off to save them, it's good to know someone would be available to drag me back to my towel after my legs cramped up and I fell flat on my face into the sand before even reaching the water.
My daughters watched the lifeguard with the intensity of Olympic judges. Or, giddy teenage girls. The whole curling-of-the-hair-before-going-to-the-beach thing started to make sense. I guess we all prepare for possible emergency situations in our own way. Who am I to judge? I carry a snake bite kit in my purse & we live in the middle of a major city.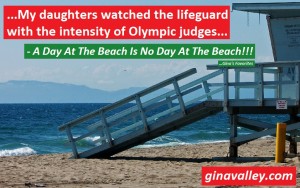 When my seafaring sons returned to our towel-based, base-camp they took great pride in including their sisters in their ocean adventure by splattering them with cold ocean water. Of course, this triggered an onslaught of whining about being cold, being wet, and having perfectly curled hair get messed up.
Not to be out whined by their sisters, my sons began their own whiny chorus to draw attention to the fact that they were "starving!"  They, then, proceeded to inhale all of the snacks and sandwiches we'd brought. In their haste, they also scarfed down two towels and a flip flop.
My announcement that it was time to pack up to head home was greeted by the expected whining about wanting to stay longer and why did we park so blasted far away.
I managed to not only not whine about all of the whining, but to even smile about it.
After all, at least it's something we can do together as a family.
Laugh Out Loud!
-gina
What triggers whining in your family? How do you handle it?  Shot me comment. I'm looking forward to hearing all about it.
Photos courtesy of 
Stock.xchng
 – Used with permission