Don't Make Me Back Up This Car!!! …Gina's Favorites
by Gina Valley
Laugh along with this timely
Gina's Favorites
post.
Don't Make Me Back This Car Up!!!
My soon-to-be high school graduate brought home his robe today.  Apparently, the robe company stores these things by wadding them up into a little ball and parking an SUV on top of them.
Even the wrinkles have wrinkles.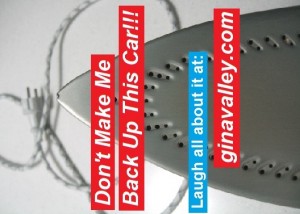 I told him to hang it up, and, hopefully, I will be able to get most of the wrinkles out of it before tomorrow night's ceremony. He said that I didn't need to worry about because "it's just high school graduation, and it's not that big of a deal." This from the kid that would not wear a t-shirt to school any day during his four high school years if it hadn't been properly attacked by a lint roller.
I asked how he had done with securing enough tickets for our family. He said that he was still 2 short, but that he had three people in mind to hit up tomorrow who said that they had extra tickets he could have.  He doesn't understand why it is important to me that all of his brothers and sisters be there to see him graduate.
He says that his sisters and brothers would probably have a better time sitting in the van playing video games while his dad and I attend his graduation ceremony. That's ridiculous.
Of course, they would have a better time sitting in the van playing video games. A much better time. Anyone would. Heck, they'd probably have a better time sitting in the van even without video games. But, we're not there to have a good time. We're there to mark this rite of passage with him.
He told me that someone had offered him $40 for 2 of his tickets. I got very serious, as I know where this profit minded teen's mind wanders, and said, "Don't you dare sell any of those tickets. We don't even have enough yet.  And, if we did, you still shouldn't sell them. That's just wrong."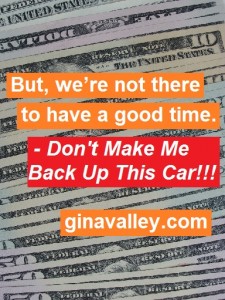 "But, mom," he countered, "it's only high school graduation. It's not that big a deal.  I could get a lot of money for those tickets."
"Look," I explained to him, "we're looking forward to being crammed together like sweaty sardines with a bunch of pungent strangers, listening to endless, pointless speeches, sweating to the point of dehydration, and listening through more than 500 names being read in hopes of getting to hear yours called. If you sell those tickets and deny us that privilege, do you know what I will do?"
"Yes, mom, I do," he answered. I could feel his eyes doing a hidden internal roll, even though it was not visible outside of his head. "You will run over me with the van. Then, you will back up and do it again."
"That's right!" I said. "And, do you know why I would do that?"
He couldn't keep himself from smiling, as he answered, "Because you love me."
Yep. He's ready to graduate.
Laugh Out Loud!
-gina
Are any of your dear ones graduating from something this year? What do you remember about your past graduations? Shoot me a comment. I'm looking forward to hearing all about it.
Photos courtesy of 
Stock.xchng
 – Used with permission.