So, I did the AtoZ April Challenge thing.
Even finished a day early.
Writing every day isn't a problem for me.  I already do that.  Usually the majority of the day.  I publish a blog post every day, too, so that part of the challenge wasn't the challenge for me.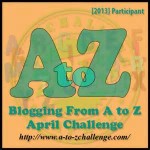 For me it was remembering the flipping alphabet.
I hit every letter.
Some I hit twice.  Maybe more than that.
And, don't even start with me about the order.  Sometimes "W" comes early in the alphabet, as well as late.  And, sometimes "F" and "H" show up a couple of times each.
It's really a good reminder that in life we should seek excellence, not perfection.  At least that's what I've been telling myself.
I have definitely reminded myself, yet again, that I am not perfect.
But, that's ok.
I'm doing the best I can.  And, doing the best you can is a pretty awesome thing to do.
I hope they gave you gobs of giggles and lots of laughs.
Here's the whole line up. (hopefully, I even remembered to hook them up with those magic links we all love)  They'd love to have you visit again:
A Funny Thing Happened On The Way To The Funeral
C Is For Can't Remember The Alphabet
I Had Another One – Seriously Today
Just 4 More Tools Until That Free Trip To The Emergency Room
Keep Your Nose Up – Life Wisdom From The Puppy
Friday Funnies – Wacky Edition
X is for…I Can't Think In This House!!!
I lost count of how many times I had to sing The Alphabet Song to get them right!
Laugh Out Loud!
-gina
I'd love to hear if you gave the challenge a whirl, and how it went for you.
Have you tried something new recently?  Something to push yourself a bit?  To keep the 'ole brain stretching?  Shoot me a comment.  I'm looking forward to hearing all about it.