A Life Well Lived
by Gina Valley
My husband's mom died in the wee hours of this morning.
Although she had been declining, her passing was not expected.  Fortunately, all of her children were at her side when she slipped away.  My husband is very sad.  My heart is broken for him.  Both of his parents are gone now, so it's a double loss.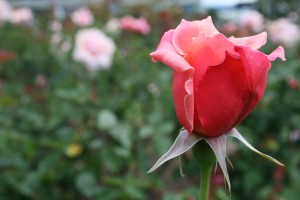 I suppose I'm like everyone else in examining my own life whenever I'm confronted with the death of someone, especially someone close to me.
We want to come to the end and look back and see that we had a life well lived.
My mother-in-law was loved by me and my family, by her children, by her friends.  But, she was not an easy person.
She was very set in her ways, and quite forthright.   She always spoke her mind.   She could not be made to do anything she did not want to do.  Not even on her last day here on earth.
She made it quite clear that she was not happy when my husband and I married.  I was the wrong religion, the wrong race, and the wrong class.   For years she refused to even eat anything I had cooked.  We did not see eye to eye on most matters.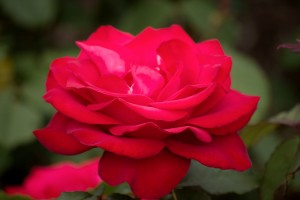 But, in an odd way I understood where she was coming from.
And, even though her demeanor softened a bit toward me in her latter years (the last years of her life she even ate more heartily at my table than anywhere else), she remained steadfastly set in her ways until even the last day of her life.
But, looking at her life, I see that she lived it well.  She lived it according to her own standards and plans. She accomplished much of what she set out to accomplish.
There's a lot to be said for that.
Her goals, her plans, her hopes may have been a bit different from mine, but her determination to accomplish them against whatever the odds may be was unstoppable.  That's impressive.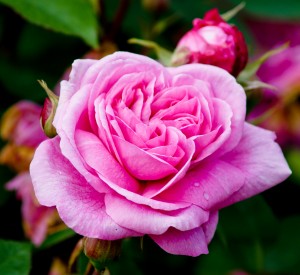 I can look at her life and say that it was well lived and there are many lessons to be taken away from that.
My MIL would do whatever was necessary to accomplish her goals.  She didn't have a lot to work with, but she used what she had.  That's especially impressive when you realize that she was an only child, orphaned at a young age, had a 6th grade education, and was 4'8" tall and 100 pounds at her largest point.
"Using what we have" sometimes feels like a strange concept.  Sometimes we spend so much time equipping ourselves to do something, that we don't do anything.  We wait until everything is ready and it never is and we miss our chance.  Sometimes we need to get in there and get the job done with what we're already carrying.  Her life reminded me of that.
She was a magician with growing roses.  I've never met anyone, no matter their background in horticulture, who had mastered roses like she had.  She had a special kinship with her roses.  In fact, the few times early in our marriage when she softened toward me it was when one of my rose bushes was particularly spectacular.  I supposed that was some sort of flora endorsement of me.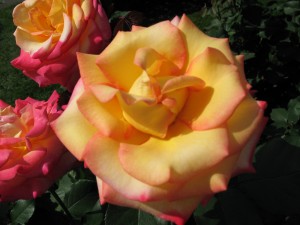 She could snip a branch off of one of her rose bushes, push it into the soil, and grow it into a beautiful new plant.  No special chemicals or plant hormones or potting soil.  I tried it and was never successful, even when I cheated and used every chemical and technology available.  I asked her once how she did it.  She said, "I just know.  You just keep trying until you know."
A lot of things in life are like that. It's important to keep trying.  It's one of the ways we show that we care about something.   Stubbornness and determination may be different sides of a fine line, but, whatever we call it, stick-to-it-ness is a valuable trait in life.  Her life reminded me of that.
She and my father-in-law were determined that their children would be college educated.  They worked tirelessly at multiple jobs to make that dream a reality.  Their children knew early on that they would graduate from college.  They saw their parents struggle to earn the money necessary to make that dream come true.  It taught them to do their part.  They struggled to make it happen.  But, in the end, all three of their children not only earned college degrees, but all three work for universities now.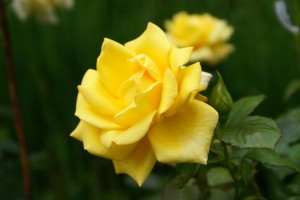 The goals that matter take hard work.  The work is part of the goal.  The journey is part of the destination.  The hard work to get there makes us into the people we need to be to accomplish the goal when we get there.  Her life reminded me of that.
She made the best lumpia ever.  It's a filled and stuffed dough wrapper, similar to an egg roll but with none of that pesky cabbage.  Hers were out of this world.  Everyone who had them said so. The thing is, overall, she was not a good cook.  In fact, I think one of the points of contention between us was that I am.  I'm sure that it must have bothered her to no end when her family raved about my cooking, remembering the complaints she'd heard for years.  But, no one, no one, could make lumpia like she could.  She was outstanding at it.
We tend to forget that we are unique, and that that is a good thing.  We each have something special that we're great at.  It doesn't matter that we aren't good at everything else.  What matters is developing that one special thing that we are gifted with, no matter what it is.  We can't excel at everything.  But, we can be outstanding at something, and that is more important.  Her life reminded me of that.
I will miss my mother-in-law.  Not just because she was my children's grandmother.  Not just because she was my husband's mom.  But because I loved her for being completely herself.
I will miss hugging her and telling her I love her, and hearing her tell me she loves me, which I think she actually meant in the latter years of her life.
I will miss shopping for her Christmas and birthday gifts, which if she didn't like she would give back and tell me to return, and if she did like them she would give back and say that it was too good for her and we should keep it.
I will even miss hearing her say in her raspy, heavily accented tiny voice, the parting salutation she always gave her kids for the decades I knew her, "Oh, the next time you see me, I will be dead."  Her kids can roll their eyes better than anyone I know.
She lived a long life.
And, she lived it well.
I hope the same can be said for me when I've reached the end of my days in this world.
Already missing you, mom.
Love!
-gina
Have you lost someone close to you?  What did you learn from his/her life?  What funny thing did they do that you always think of when you remember them?  How have you filled that hole in your life?  Shoot me a comment.  I'm looking forward to hearing all about it.