And Now For Something Completely Different…Sort Of
by Gina Valley
I'm starting a new tradition, and I'm hoping you'll all join me.
We all know and love the Facebook November "What I'm Thankful For" schtick (depending on your point of view that may or may not be typed in the sarcasm font).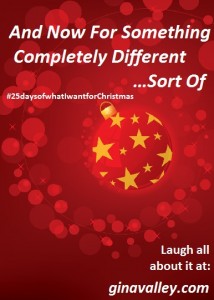 Now let's go with something a bit more down to earth and realistic. I'm calling it:
25 Days of What I Want For Christmas
#25daysofwhatIwantforChristmas
*Notice the cool matching hashtag.
This new trend will not only rapidly sweep extra fun and frolic across Facebook, Twitter & Pinterest, it will also have all of the fancy bells and whistles of a full throttle Facebook trend, plus be compatible with Apple, Android, and Google. I'm not sure about LinkedIn. No one's sure about LinkedIn.
I encourage you to join in for #25daysofwhatIwantforChristmas. It promises to be great fun, if we all take it lightly, to be steady a source of eye rolls, if taken too seriously, and to be not nearly as creepy as that freaky elf on the shelf dude no matter what. <shudder!!!>
I'm sure you've already figured out the idea is to post about one thing you want for Christmas each day in December leading up to Christmas on Facebook, Twitter, Pinterest or all of them, but let's fine tune this sucker a little before we get the ball rolling.
What you want for Christmas does not have to be a material or physical thing. For example, I ask for the same thing from my family every year for Christmas: a clean house and obedient children. I think they've never given me that because they aren't sure how to wrap it.
Each thing you want for Christmas should be something somewhat unique to you. For example, we all want Peace on Earth and an end to world hunger. No fair putting that sort of stuff.
You can post about anything you want, but that doesn't mean you should. My sister once posted about wanting spatulas for Christmas. She has received over 200 spatulas from friends and acquaintances since, and years of ridicule about "aiming high" from me. So, before you post about your love of tube socks, or anything "fellowship" related, think twice.
Got it?
Good.
So without further ado, mainly because I'm not sure what "ado" is, here is the first post for #25daysofwhatIwantforChristmas:
(you can insert a drumroll here if you are someone who is into flourishes)
I took the most glorious nap today, and all I want for Christmas is another one!  #25daysofwhatIwantforChristmas
I'll be leaving out extra cookies for Santy Claus in hopes of scoring this gem this year.
I don't even care if he wraps it.
Laugh Out Loud!
-gina
Be sure to hook up with me on Facebook and Twitter  and Pinterest so you see all of my #25daysofwhatIwantforChristmas posts.
I'm looking forward to reading your #25daysofwhatIwantforChristmas posts, too. Shoot me your Facebook, Twitter & Pinterest links if we aren't already connected. I'm looking forward to giggling along with you!
Be sure to invite your friends to join in by sharing this post with them on all of your social media spaces.
Photo courtesy of 
Stock.xchng
 – Used with permission