Top 10 REAL Names For This Waiting Room
by Gina Valley
I'm at a philosophical crossroads.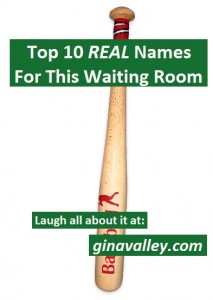 I've long believed waiting rooms are the only properly named spaces in the world.
But, having sat in the parents' waiting room for nearly uncountable hours during my child's treatments, I've began to wonder if perhaps these rooms are misnamed.
Or, perhaps it's just this one.
I'm pretty sure if I have to sit in this waiting room much longer I'm going to turn into a serial killer.
It's not that I'm ungrateful for her treatment. I'm very grateful for it. And, I'm thankful for our insurance, without which we couldn't afford this treatment.
But…
It's definitely time to rename this waiting room, maybe even all of them.
Top 10 REAL Names For This Waiting Room
#10.  Life Draining From Me As My Legs Slip Into a Coma Room
#9.  If That Guy Doesn't Stop Grinding His Teeth, I Am Getting The Bat Out Of The Trunk Of My Car Room
#8.  I Think These Magazines Are From The 1800's Room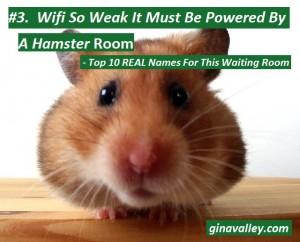 #7.  I've Been Here So Long I Think I Missed Christmas Room
#6.  Dear Heaven What Is That Noise?!?! Room
#5.  Someone Had Indian Food For Lunch Room
#4.  Museum Of Uncomfortable Chairs Room
#3.  Wifi So Weak It Must Be Powered By A Hamster Room
#2.  Going To Lose A Finger To Frostbite In Here Room
#1.  Where Is A Hot Dog Vendor When You Need One? Room
BONUS Name:  Why People Turn Into Serial Killers Room
I'm not sure I'll ever be able to leave this waiting room, though.  My legs have definitely slipped all the way into a coma.
Laugh Out Loud!
-gina
Have you spent quality time in a waiting room lately? Anything funny happen? What's the worst waiting room you've been in?  Shoot me a comment. I'm looking forward to hearing what you think.
Photos courtesy of Stock.xchng – Used with permission