Top 10 Stupid Complaints About Valentine's Day …Gina's Favorites
by Gina Valley
I'm sure you heard them! Laugh along with this timely
Gina's Favorites
post.
Top 10 Stupid Complaints About Valentine's Day
You know what I hate about Valentine's Day? I hate all the whining and complaining about Valentine's Day.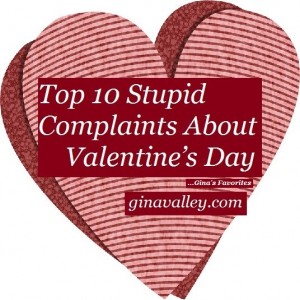 Oh. My. Gosh.
People. Settle down.
You're protesting candy hearts and giggles.
You're not Ghandi.
You're rioting against a fake holiday, sucking the fun out of it for those of us who enjoy it, and making excuses for the inconsiderate, selfish people in your life. Knock it off.
In other words, shut up shut up shut up.
Can't let go of your Anti V-Day Attitude? Here's some help with that:
Top 10 Stupid Complaints About Valentine's Day
#10.  It's too commercial – Really? That's the best you've got? It's too commercial? Well then, I guess you also ignore Christmas, Easter, Halloween, Thanksgiving, St Patrick's Day, the Olympics, the Royal Baby's birth, children's birthday parties & every other conceivable opportunity for the big box stores and those evil greeting card peddlers to make a buck. It's too commercialized? Of course it's too commercialized. So is every other thing on the planet.
You don't have to ignore the whole concept to avoid commercialization of Valentine's pure intentions any more than you have to do so for Christmas or Hanukkah. Plan ahead. Use your brain. This is an occasion when the thought really does matter much more than anything else.
#9.  Everything is too expensive. They jack up the prices.  – You think? They raise the prices on limited stuff around a popular time? Gee, seems like that comes up at every holiday. It's only a problem for those who fail to plan ahead. Don't spend more. Think more. Be more creative.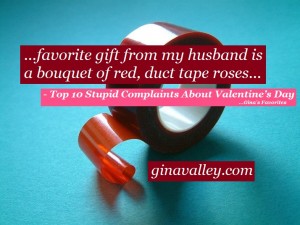 One of my favorite gifts from my husband is a bouquet of red, duct tape roses he made me one year. It took him nearly a week to make, and he had his students work on group projects so he could make the whole thing at work to surprise me. The planning and the effort make me smile every time I see them.
#8.  It encourages obesity. – If this is your beef (no pun intended), you need a reality check. Yes, chocolate is often a symbol of Valentine's Day, but that doesn't mean it's encouraging anyone to dump the clean eating, and switch to an all-candy diet. If all the talk about chocolate and those little hearts with messages encourages obesity, what does that freaky little cupid guy encourage? Naked archery? We don't hear much whining about that being an issue, and, what with it being an Olympic year, seems like we would.
#7.  Our relationship is in a bad place. – That stinks any day, even more so on Valentine's Day. But, don't you think your efforts would be better spent thinking of something to celebrate about this person you're still attached to, rather than complaining about the whole idea of a "Love Holiday"? Surely there is something good there. Run with that. Even if all you can see through the hurt today is that her meatloaf rocks and she can juggle, or he always hits play at just the right moment while fast forwarding through commercials on the DVR and can ride a unicycle, you've got something to jot down on a paper heart.
#6.  You should show people you love them every day, not just on some day they tell you to. – Well, duh! Of course you should!  Celebrating Valentine's Day doesn't mean you get a "be self-centered the rest of the year" pass. Celebrating Valentine's Day is an extension of your everyday caring and loving attitude toward the important people in your life, particularly your significant other. If celebrating how you feel about each other isn't fun and natural, ask yourself if you are doing that enough on other days. If not maybe your problem is not the day, but the state of your relationship.
#5.  I don't even like candy or flowers. – Oh my gosh! Really? I'm not sure we can be friends. How about just telling people you care about them? Are you ok with that? Because that is the whole point of the Valentine's hubaloo.
#4.  Someone broke up with me on Valentine's Day and I've hated it ever since. – That sucks, but get over it. It's not a bad holiday. You had a bad significant other. Send the jerk a beautiful Valentine's Day card, thanking the individual for getting out of your life, and move the heck on. The best revenge is being happy. Choose that.
#3.  Gifts are so hard to get right. – Well then, talk to your significant other. You know, communicate. If you didn't like the carton of Marlboros Bubba got you last year, mention directly to him that you would prefer a necklace or flowers or whatever it is you actually want. There's nothing wrong with slipping a URL to a gift-buying-impaired loved one, either. If you don't find the Valentine's sweater your wife knits for your each year to be a particularly stimulating gift, give her some ideas for less time consuming ways to put a smile on your face.
#2.  I absolutely refuse to have anything to do with Valentine's Day no matter what. – Fine. Your call. But, shut up about it. Contrary to popular belief, you don't have to rain on everybody else's parade just because you've decided not to march. You can be a vegan without telling everyone. You can go to the gym without posting about it on Facebook. And, you can skip out of Valentine's Day without giving every person who mentions it a lecture about your non-interest. More power to you. And, more candy left for the rest of us.
#1½.  It's just for couples anyway, and I'm not part of a couple. – Part of a couple or not, you should have people you care about in your life. A significant other should not be your only other. Surely you have friends and family who would love to be reminded that you care about them. If you don't, your problem is neither lacking a better half, nor Valentine's Day.
#1.  It's so fake to have a particular day to tell people you love them. – That's like saying you don't wish someone a Happy Birthday on their birthday, because you're always happy they were born. Or, refusing to say something you are thankful for on Thanksgiving because you are thankful for it every day. Ridiculous.
Valentine's Day isn't brain surgery or mid-east peace negotiations. It's supposed to be fun.
So, lighten up.
Pass out some heart shaped candy.
And, smile.
Who knows, maybe you'll impress that fat, naked, flying archer guy and he'll help you out.
Laugh Out Loud!
-gina
Got anything I should I add to my list?  Are you a V-Day hater or lover?  Shoot me a comment.  I'm looking forward to hearing what you have to say.
Photos courtesy of 
Stock.xchng
 – Used with permission