Top 10 INSANE Things I Uttered On The 1st Day of Spring Break
by Gina Valley
It's only the first day of spring break and I already sound like I've lost my mind.
I haven't. I just have kids.
Kids love spring break.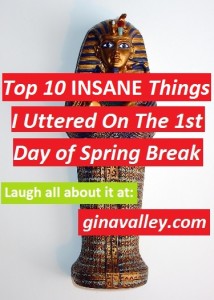 I tend to head into it under the impression I love it, too. I always have grandiose plans for what we'll do with a week void of school responsibilities. I also, apparently, have total amnesia when it comes to spring breaks past.
This year was no different.
Being home for a week without having to drive school carpool sounded like a vacation.
I imagined all that I'd lead my pack to accomplish during this gift of extra hours.  We would clean and garden and organize. We would play board games and basketball and badminton. We would visit museums and the beach and the zoo.
But, I forgot that I live in a zoo.
Any extra hours with my kids at home with me are quickly gobbled up by the extra parenting opportunities their close proximity to me and each other all day long necessitates.
Sometimes, those extra parenting opportunities fly out of my mouth and boggle my mind.
There's been a whole lot of that going on already, and it's only the first day of spring break.
Top 10 INSANE Things I Uttered On The 1st Day of Spring Break
#10.  If the dog really was the one who ate all the Easter candy his poop would be sparkly.
#9.  Let go of your brother's face.
#8.  You can't bring that squirrel into the house, because we don't know him.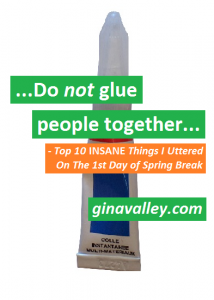 #7.  Did anyone realize we still have Christmas decorations on the mantel?
#6.  I doubt unloading the dishwasher is going to kill you.
#5.  Spring break is just a break from school, not from reality, not from chores, and definitely not from showers. And, use soap!
#4.  Clothes that are still on hangers are not dirty.
#3.  Do not play catch with a screwdriver.
#2.  No, milk should not be a solid.
#1.  Do not glue people together.
I love my children. I love the extra time we have together.
But…
I'm already starting to wonder…
Is it school o'clock yet?
Laugh Out Loud!
-gina
Is your family spring break-ing? How do you spend the extra time a break from school responsibilities gives you? Are people being glued together at your house, too? Shoot me a comment. I'm looking forward to hearing from you.
Photos courtesy of 
Stock.xchng
 – Used with permission.