Top 10 Reasons I'm Rolling My Eyes
by Gina Valley
I really hate it when my kids roll their eyes at something.
Especially when that something is me.
So, I make it a point to try not to do many eye rolls myself. Trying to set at least an ok example, and all that.
But, this week, I've been rolling my eyes so much I think it counts as cardio.
Why the sudden shifting of my oculars? I'm glad you asked.
Top 10 Reasons I'm Rolling My Eyes
#10.  Because when I walked up to the paint mixing counter with both teal and coral colored paint smudges on my hands and shirt, the Home Depot paint clerk told me, "If you want any color other than white we have to mix it."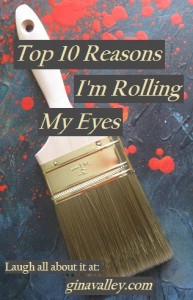 #9.  Because my eldest son said to me, while I was dragging his giant puppy off of our dining room table, again, "My friend's turtle had 48 babies. They live 80-100 years, and get up to 150 lbs!  Can we get 2?"
#8.  Because when Son#2 handed me my car key it was bent to a 90 degree angle, and he said, "It was that way when I got it."
#7. Because, after my pack had all left for school, I found a pair of someone's underwear in my dining room. Again.
#6.  Because, after Son#4 told me, "I'm done cleaning the yard," and I asked him, "Did you pick up the trash & sweep the patio?" he said, "No."
#5.  Because clearly the difficulty in attempting to copy a missing key escaped my eldest daughter when she lost my house key, and said, "Can't you just make another copy?"
#4.  Because Son#3, who has severe asthma triggered by exercise and plant allergies, announced, as he got out of our van and took off running across the field to soccer practice, that he decided not to take his allergy pill before soccer practice because he just didn't feel like taking it.
#3.  Because when I told my Daughter#3 I was late picking her up because I fell asleep while I was working on a column, she said, "Wow, it must be really funny."
#2.  Because when I told Son#2 I needed him to give Daughter#2 a ride to school because she overslept, he said, "Could you please ask me the night before next time?"
#1.  Because I tried to turn the TV channel with my cell phone. Again.
I wonder how many calories a good eye roll burns. After all, I've got a high school reunion coming up soonto get in shape for.
Laugh Out Loud!
-gina
Any ridiculousness in your life lately?  Are your eyes a' rollin'? Shoot me a comment. I'm looking forward to hearing all about it.
Photo courtesy of 
Stock.xchng
 – Used with permission