Is there a gnawing sense of dread springing up from deep within you? Do you have a feeling you might not be ready for Christmas? Did you try lying down to see if the feeling would pass? Are you wondering if it's time for you to panic? Here's how to know for sure:
Top 10 Signs You Are NOT Ready For Christmas
#10 – Your dog is still wearing his Captain America Halloween costume.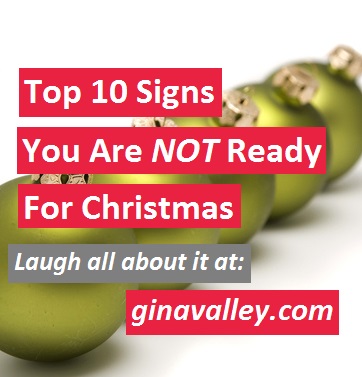 #9 – There aren't any trees, even in your yard, much less in your living room.
#8 – You hyperventilate when you see the "Only __ more shopping days until Christmas!!!" display at Target.
#7- You're halls are decked with pumpkins.
#6 – Every time one of those Salvation Army folks outside the grocery store rings their bell you have a seizure.
#5 – The only wrapping paper in your house is the roll your husband bought for your last birthday with pictures of tombstones and "Over the hill!!!" printed on it.
#4 – You sent your kid to school wearing a Saint Louis cap on Santa Hat Day
#3 – The closest thing you have to Christmas candy in your house is a couple of empty Cadbury Egg wrappers in the canister marked "Flour" on your kitchen counter.
#2 – You wore your old, ratty bathrobe to the office Ugly Christmas Sweater Party, which was neither a sweater nor Christmas-y. But, was ugly.
#1 – Every time someone says "figgy pudding" you stab them with a fork.
Don't worry.
There's still plenty of time to get ready.
Or, to dim the lights and hide under your bed until the whole thing blows over.
Totally your call.
Laugh out loud!
-gina
What should I add to my list? Are you ready? Shoot me a comment. I'm looking forward to hearing all about it.
Photo courtesy of Freeimages.com – Used with permission