Top 10 Signs It's Time For Your Kids To Go Back To School
by Gina Valley
The signs are everywhere. And, most of them have apples on them.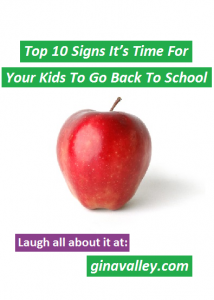 Your kids have already qualified for The Olympic I'm Not Touching You! Team, twice, and have now started a Who Can Make Mom Scream The Loudest? tournament.
Even though you made it a point to get them an extra size too big, your 15 year old has already out grown the shoes you bought for him last week.
And, whenever one of your children passes into your line of sight, you have a nearly overwhelming urge to holler, "We're late!" and to rush him to the car.
You think it's time. Here're 10 signs to help you be sure.
Top 10 Signs It's Time For Your Kids To Go Back To School
#10.  Your dog is hanging out with the couple in their 80's two doors down every afternoon, just so he can take an uninterrupted nap.
#9.  The stores have started putting up their Christmas decorations.
#8.  You've locked yourself in the linen closet to try to get some alone time three times this week.
#7.  Your kids have brought so much sand home in their swimsuits from your weekly trips to the beach that the county hired an erosion control specialist to rebuild the shoreline.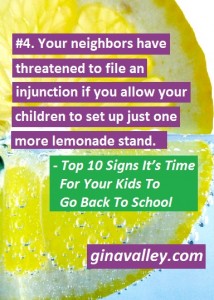 #6.  Your cat tries to bury your kids whenever they're in the yard.
#5.  Your children have hidden your calendar.
#4.  Your neighbors have threatened to file an injunction if you allow your children to set up just one more lemonade stand.
#3.  You've found the perfect "Welcome Back!" gift to make out of stuff you have around the house for your child's teacher on Pinterest, and all you need is a paper towel tube, 4 rubber bands, and $96 worth of supplies from the craft store.
#2.  Your children have accidentally flushed swim goggles down the toilet, while attempting to see what a whirlpool looks like underwater, so many times that your plumber wrote them a thank you note.
#1.  A now 7-legged spider made a cobweb in the corner of your dining room that reads, "Isn't it about time for them to go back to school?"
Yes. Yes, it is.
Take my kids. Please.
Laugh Out Loud!
-gina
What are the signs around your home that your children are ready to head back to school? What will you miss most once school starts? Shoot me a comment. I'm looking forward to hearing what you think.
Photo courtesy of 
Stock.xchng
 – Used with permission.